cooking parties
cooking classes
culinary tours
Our cooking loft boasts the following:
RUSTICO COOKING was launched by Milan-born Micol Negrin in 2002. After obtaining a Psychology Degree at McGill University despite gnawing doubts that what she really wanted to do was to cook, Micol decided to take the plunge and enrolled in culinary school. With a degree from Canada's premier culinary academy, L'Institut du Tourisme et de l'Hotellerie du Quebec, Micol moved to New York City and became the Editor and chief writer for The Magazine of La Cucina Italiana. For six years, until she resigned, Micol wrote and edited full-time... but in her heart, she knew she wanted to be back behind the stove, cooking for people who wanted to experience a true taste of Italy and teaching Italian cooking to anyone eager to roll up their sleeves.
And so, once again, Micol followed her dreams. She opened RUSTICO COOKING in Midtown Manhattan, where she and her husband Dino De Angelis host cooking classes, cooking parties and team-building events.
Author of three cookbooks (the James Beard-nominated Rustico: Regional Italian Country Cooking and The Italian Grill, both published by Clarkson Potter, and The Best Pasta Sauces: Favorite Regional Italian Recipes, released by Ballantine Books, a division of Random House), Micol is not only a skilled Italian chef, but an accomplished writer and well-respected authority on Italian cuisine. She teaches Italian cooking across North America and has written for major publications (including Fine Cooking, Cooking Light and Bon Appetit).
Micol's husband, Dino De Angelis, earned a Ph.D. in Biochemistry from McGill University in Montreal. The couple moved to NYC in 1995, when Dino was hired to do cutting-edge biomedical research at Memorial Sloan Kettering Cancer Center. During the summers, Dino took time off from research to photograph Italian food and landscapes for Micol's cookbooks and magazine articles. In 2006, Dino decided to take a plunge himself, and went into the family business full time. Dino designed and maintains the Rustico Cooking website and blog, deals with administrative aspects of the business, and teaches at RUSTICO COOKING.
Micol and Dino also offer cooking vacations in Italy, visting various regions as they explore the area's amazing food and wine in hands-on cooking lessons, wine tastings, and culinary excursions. Read more about our week-long culinary tours to Italy.
Follow us on
twitter and
facebook for news, special offers and promotions...
Be sure to subscribe to our blog for recipes and cooking tips!
For more recipes, info and tips & tricks, sign up for our newsletter.
New Tuscany Tour Video
Gerry Biordi
Gerry Biordi developed a passion for feeding people when living in Bologna, where she learned authentic Italian cooking from the best cooks imaginable: Italian grandmothers! She learned all their coveted recipes, their techniques and tricks that make Italian home cooking so special. Upon her return to New York, Gerry started Sarabella Catering, and enjoyed planning parties and events for several years. She graduated from the Culinary Management Program at the Institute of Culinary Education, and interned at The Magazine of La Cucina Italiana, working in the kitchen and on magazine photo shoots, and at Indiana Market and Catering. Gerry has always believed that people who don't have time to cook need a better option than take-out or expensive restaurants; that's the idea behind her personal home chef service, Sarabella Cooks, a meal delivery program that delivers fresh, homemade food for the week right to your door.
Caitlyn Nies
Caitlyn graduated from the College of Mount Saint Vincent with a Bachelor's Degree in Psychology and a Certification in Elementary and Early Childhood Education. Subsequent to her graduation, she pursued her passion for cooking by enrolling in the Culinary Arts Program at the Institute of Culinary Education. Upon her certification in Culinary Arts she began working at Vetro By Russos on the Bay, in Howard Beach, as a prep and catering cook. In her desire to combine her passion for teaching with her culinary passion, she now works independently, conducting both adult and children's personal cooking classes. In addition to her work at Rustico, she does private catering and personal chef work, specializing in Weight Watcher conscious meals. You can find her selling her creations, each Saturday, at the local Farmer's Market in Breezy Point, Queens.
Luis Crousillat
Luis graduated from The International Culinary Center in Classic Culinary Arts. While studying for electrical engineering, his part-time cooking job in SoHo soon became his top interest. Growing up in a Cuban-Peruvian household, food and cooking was always of utmost importance and intrigue. It would only be natural cooking professionally would find its way and pull Luis in. After working in restaurants and traveling the United States with his family in their motor home, he has found that eating and the joy cooking brings has the same powerful effect on people no matter where they are. Cooking is vital and he wishes more people would make it part of their everyday life. Rustico is able to offer Luis' desire, expertise and satisfaction in all things culinary onto others.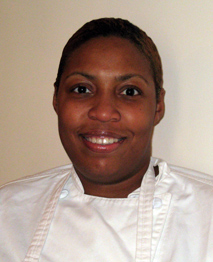 Melissa Ricketts
Melissa is vibrant, warm and truly enjoys sharing her passions with clients at Rustico Cooking. She decided to pursue her true passions of food and tourism while working at a pharmaceutical firm. She graduated with highest honors from the Institute of Culinary Education, developed her skills at Gramercy Tavern, volunteered with City Harvest, and was part of the kick off campaign of Let's Move at the United States White House with First Lady Michelle Obama. Melissa continues to operate a chef service and an IATAN accredited travel service providing culinary inspired adventures. She earned a Master of Science in Health Sciences for Clinical Research Administration from George Washington University and a Bachelor of Science in Biochemistry from State University of New York at Stony Brook.
Costas Mouzouras
RUSTICO COOKING's Wine Director was born and raised in Cyprus. From a childhood pruning, harvesting and stomping grapes in the family vineyard, Costas was fascinated with how wine is made and develops, and how it brings people together. Costas moved to NYC when he was 19, where he began working full-time on his BA.
He lectures on wine to food industry professionals and amateurs, and is a regular radio show guest wine expert (every Monday in season on WSNR Radio). He has been quoted in the Wine Spectator and the New York Sun among other publications.
To keep in touch with what's new and what to recommend to his loyal following, Costas tastes 25 to 30 wines per week. Costas believes that wine should be enjoyed in moderation, but definitely imbibed! Costas hosts RUSTICO COOKING's private wine tastings for such diverse clients as AmEx, Victoria's Secret, Roche, Unilever, Nestle Waters, KPMG, Arts & Entertainment Television Network, and more.
We believe good food does not need to be complicated. In fact, the best food is often the simplest. Our recipes and our cooking style reflect this fact. Fresh ingredients, treated simply and with respect, are the foundation of memorable meals. We do not complicate simple recipes just so that our students and class participants can walk away with a sense of accomplishment. Rather, we emphasize cooking techniques that most effectively draw out flavor from each ingredient in a dish. And we make cooking fun, so that people are actually motivated to do it on a regular basis, instead of being intimidated by lengthy processes and hard-to-find ingredients.
This also means that we do not use any processed ingredients or pre-packaged food in our cooking. All our stocks, broths, and sauces are homemade. Nothing goes to waste, and everything we incorporate in our cooking is natural. After enjoying a meal cooked in our kitchen, you will feel satiated, never heavy.
In order to facilitate the learning process and allow us to spend more time focusing on the relevant techniques of a given class (say, making fresh pasta from scratch, rolling out flaky pie crust, stuffing ravioli, kneading pizza dough), we chop, prep, and measure all necessary ingredients before students arrive. The onions are minced, the potatoes washed, the flour and sugar measured. This way, we can spend longer mastering truly essential cooking techniques.
To ensure all class participants learn the most important parts of a given menu, certain key techniques (such as making fresh pasta dough from scratch) will be executed by class participants in small teams.
One last thing: we believe food should be delicious, and every meal should be a celebration. So when you come to our kitchen, you will not only learn how to execute a menu; you will also learn how it should taste, because the food we make in your company is always flavorful, fresh, and satisfying.
We are looking for enthusiastic, hard working, fun-loving chefs who enjoy teaching amateur cooks and food lovers. Several part-time opportunities available, as independent contractors (you will need to fill out a W-9 form). Email us at micol@rusticocooking.com and put "working at Rustico Cooking" in the title. Please attach a resume and include a few words about yourself. Thanks!
The best way to reach us is by email at micol@rusticocooking.com. We can also be reached by phone at 917-602-1519. We will contact you by phone/email within 24 hrs to coordinate your party.
If you know the date that you want to book your private event, please use our event request form
Our address is

Rustico Cooking
40 West 39th Street
Third Floor
New York, NY 10018
We run events and classes in the morning and the evening, therefore all visits are strictly by appointment - no walk-ins... Please email us or call ahead if you wish to schedule a visit.