RUSTICO COOKING was launched by Milan-born Micol Negrin in 2002. After obtaining a Psychology Degree at McGill University despite gnawing doubts that what she really wanted to do was to cook, Micol decided to take the plunge and enrolled in culinary school. With a degree from Canada's premier culinary academy, L'Institut du Tourisme et de l'Hotellerie du Quebec, Micol moved to New York City and became the Editor and chief writer for The Magazine of La Cucina Italiana. For six years, until she resigned, Micol wrote and edited full-time... but in her heart, she knew she wanted to be back behind the stove, cooking for people who wanted to experience a true taste of Italy and teaching Italian cooking to anyone eager to roll up their sleeves.
And so, once again, Micol followed her dreams. in 2005, Micol opened RUSTICO COOKING on West 39th Street in Midtown Manhattan, where she and her husband Dino De Angelis (more on him below!) hosted cooking classes, cooking parties, and corporate team-building events for 15 years.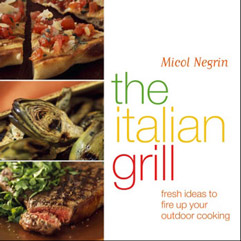 Author of three cookbooks (the James Beard-nominated Rustico: Regional Italian Country Cooking and The Italian Grill, both published by Clarkson Potter, and The Best Pasta Sauces: Favorite Regional Italian Recipes, released by Ballantine Books, a division of Random House), Micol is not only a skilled Italian chef, but an accomplished writer and well-respected authority on Italian cuisine. She teaches Italian cooking across North America and has written for major publications (including Fine Cooking, Cooking Light and Bon Appetit).
Since 2004, Micol and Dino offer culinary vacations in Italy, visting various regions as they explore the area's amazing food and wine with hands-on cooking lessons, wine tastings, and culinary excursions.
When not leading cooking tours to Italy, Micol and Dino also offer hands-on cooking classes in NYC one a month or so. You can see the calendar of cooking classes here.
Micol's husband, Dino De Angelis, earned a Ph.D. in Biochemistry from McGill University in Montreal. The couple moved to NYC in 1995, when Dino was hired to do cutting-edge biomedical research at Memorial Sloan Kettering Cancer Center. During the summers, Dino took time off from research to photograph Italian food and landscapes for Micol's cookbooks and magazine articles.
In 2006, Dino decided to take a plunge himself, and went into the family business full time. Dino designed and maintains the Rustico Cooking website and blog, deals with administrative aspects of the business, and develops the technological aspects of the company, including its soon-to-be-launched online video cooking site.
Follow Micol and Dino on
twitter and
facebook for news, special offers and promotions...
Be sure to subscribe to their blog for recipes and cooking tips!
For more recipes, info and tips & tricks, sign up for their newsletter.
New Tuscany Tour Video