Liguria - The Italian Riviera culinary tour
PORTOFINO, CINQUE TERRE, AND BEYOND
2010 Tour Schedule: We will not be offering any cooking tours to Italy in 2010. We'll post the schedule for future years as soon as tour dates are determined.
We'll take a small group of Italian food and wine lovers to the Italian Riviera for a week-long tour of its most beautiful spots and a taste of its most memorable specialties.
photos from recent trips | client testimonials | pricing & payment | detailed itinerary | travel information
We'll begin our journey in Rapallo, where we will stay at a four-star hotel with a splendid view of the sea. From there, we'll take day trips to Portofino, Santa Margherita Ligure, Sestri Levante, the Cinque Terre, Camogli, Chiavari, and Genova.
And as we visit each of these places, we'll learn how to prepare local specialties from talented, passionate Ligurian cooks; we'll sip rare wines vinified in terraced hillside vineyards above the breathtaking coastline of the Cinque Terre; we'll shop at colorful outdoor food markets; we'll meet cheesemakers and wine producers with a passion for their area's distinct offerings... and, of course, we'll dine at Liguria's best tables.
If you ever wanted to discover the hidden beauties and the unique specialties of Liguria, this is the trip for you. We are accepting a maximum of 24 people per tour, so book early!
To reserve, call 917-602-1519 or email us.
Liguria
People often ask us what our favorite region of Italy is. It's a difficult question to answer, because we love all of Italy... but if we really had to choose a single region, our answer would have to be Liguria. From the terraced hills of the Cinque Terre to the balmy seaside of Santa Margherita Ligure, from the densely wooded mountains and the small hilltop villages of the entroterra (as the tranquil inland area is called) to the exclusive port town of Portofino, there isn't a part of Liguria that we don't find enchanting. And we should know: Micol's family has had a home in Rapallo, a bustling seaside city, since she could barely walk, so over the years we've explored almost every nook and cranny of the area.
Testimonial: I think the Italian Riviera tour was one of the best vacations I have had in my life. It is hard to pick out a single highlight. The cooking lesson with Fausto was great, but I also particularly enjoyed the olive oil tasting, the wine tasting, and the trip to the candy factory. Really, each day was a treat. I am going to recommend the tours to anyone I know who enjoys cooking or is thinking of traveling to Italy. Julie Z., Rockville, MD
Liguria Tour Itinerary
Day 1: Rapallo & Recco
Morning check-in and welcome cocktail reception at a four-star hotel on the romantic seaside promenade in Rapallo.
Seafood lunch at a nearby restaurant.
Drive along the coast to the elegant city of Santa Margherita, where we'll watch the fishermen unload crates of fresh fish and stroll in Santa Margherita's medieval center.
Cooking lesson at a renowned restaurant where we'll help the chef prepare his specialty, a cheese-filled focaccia that has made him famous across Italy. We'll also learn to prepare a towering seafood salad and a local pasta called corzetti.
Leisurely aperitivo and sit down for a true Ligurian feast of cheese-filled focaccia, fresh pasta, seafood salad, and a classic dessert, all paired with Ligurian wines.
Day 2: Rapallo & Portofino
Morning at the outdoor food market in Rapallo, learning about local fruit and vegetable varieties, fresh and aged Ligurian cheeses, and more.
Focaccia lesson at one of the city's best bakeries.
Fresh pasta lesson with a master pastina (a woman who specializes in making fresh pasta).
Lunch of freshly made pasta, stuffed Ligurian vegetables, and a homey dessert.
A little R & R back at the hotel, followed by a boat ride to the jewel-like port town of Portofino.
Free time for strolling in Portofino's art galleries and shops, or a walk in the woods that connect Portofino to the splendid beach of Paraggi.
Dinner at one of Portofino's most exclusive restaurants featuring just-caught fish and seafood.
Day 3: The Cinque Terre
Train ride to Vernazza in the Cinque Terre.
If you're feeling sporty, you can hike to the next town; or, if you prefer a more laid-back visit, take the train to Manarola, where you have the option of joining me for lunch at a gorgeous restaurant facing the port.
In the late afternoon, a brief walk will take us to Riomaggiore, the last of the Cinque Terre, along a promenade known as the Via dell'Amore ("Road of Love").
We'll visit a wine producer whose dessert wine is one of Italy's greatest offerings, and enjoy a taste of his top-rated wines.
We'll head back to Rapallo by train for a hearty dinner at one of our favorite trattorie and a good night's rest.
Day 4: Sestri Levante & Chiavari
After a leisurely breakfast, we'll take the bus for a drive through the Ligurian countryside to Sestri Levante, a beautiful seaside town.
Guided tour of a nineteenth-century olive oil mill, where we'll learn how Liguria's famed olive oil is produced.
Lunch in Sestri Levante at a famous seafood restaurant.
Visit to the Bay of Silence, Sestri's glorious little beach.
Gelato lesson (and tasting, of course!) in the charming town of Chiavari, at the city's oldest pastry shop.
Free time for shopping and a stroll in the town's medieval center.
Return to Rapallo and optional shopping excursion at a salumeria for those who wish to stock up on cheeses, cured meats, olive oil, preserves, and more.
Sumptuous seafood dinner in Rapallo.
Day 5: San Massimo & Camogli
Morning cooking lesson at a charming restaurant in the hills above Rapallo with chef Fausto, a local legend.
We'll cook a multi-course Ligurian meal, learn all about Liguria's essential herbs, and then sit down to taste all we've prepared.... this will definitely be one of the highlights of our tour!
Everyone will receive a complimentary apron and one of Fausto's cookbooks.
Return to Rapallo for a little R & R.
Drive to the classic fishermen's town of Camogli, where we'll meet Lilla, a local expert on the history of tuna fishing in Italy.
Dinner at Camogli's best seafood restaurant, with a stunning panoramic view of the coastline.
Day 6: Genova & San Cipriano
Late morning departure for the port city of Genova, the region's capital.
Optional lunch at a characteristic trattoria for a taste of chickpea-flour pancakes, vegetable torte, and more.
Guided tour of Liguria's oldest candy-maker and chocolatier, a family company founded in 1780.
Visit of Genova's outdoor market, where we'll shop, snack, and take in the sights and smells of old Genova.
Dinner at a restaurant in the hills above Genova, where the house specialty is a rare figure eight-shaped pasta.
If you still have room for it, you can enjoy traditional gelato at one of Rapallo's famed gelaterie before returning to our hotel.
Day 7: Rapallo - Farewell Breakfast
Farewell breakfast... why not join us for some sweet treats and cappuccino at Rapallo's best pasticceria?
Check-out from the hotel.
Liguria Travel Information
Closest Airport, Transfering to Rapallo, and More...
Rapallo, the town in Liguria where we will be staying, is about 30 minutes away from Genova, the regional capital. Genova is a connecting flight from most major North American cities, through Rome or Milan, perhaps even Nice (France).
You can reach Rapallo in three ways: by train from the main train station in downtown Milan (the ride is just over 2 hours and direct, provided you select the correct train; more info here); by private car from the Milan or Genova airport, which we can arrange for you if you like (cost is around $320 from Milan or $110 from Genova, depending on the exchange rate); or driving on your own.
Keep in mind that upon arrival in Italy, you will be jetlagged. You should plan on arriving in Italy no later than one day prior to the start date of the tour, so you can get over jet lag before we begin our journey together. You can request an additional night at our hotel in Rapallo prior to the start date of our tour (or after if needed) and pay the hotel directly for your additional night(s). Just let us know if you need additional hotel nights and we will contact the hotel in Rapallo directly on your behalf.
Plan on leaving Italy no earlier than the day after our tour ends. Most flights out of Europe are early in the morning and you would miss the last morning's activities if you book a flight out the same day our tour ends (you would need to be at the Bari airport by 8 am or earlier to catch a 10 am flight, and you would also be quite tired since we will not be returning to the hotel before 10:30 pm the evening before the tour ends).
Before booking your flights, please call 917-602-1519 or email us so we can review your travel itinerary.
To purchase travel insurance, visit here.
A FEW PHOTOS FROM OUR SEPTEMBER 2006 TOUR TO THE ITALIAN RIVIERA...
Fresh coursetti pasta at Pastificio Dasso in Rapallo; Micol with Maurizia Dasso after our pasta lesson.
Gathering rocks on the beach in Sestri Levante; freshly baked onion focaccia at Fausto's restaurant.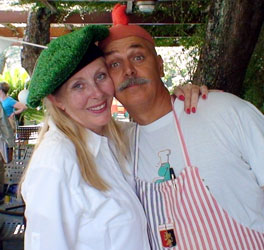 Did Fausto put flour on her nose? He feigns nothing, then puts a funny hat on another tour participant.
Roasted lamb chops with aromatic herbs and crispy potatoes at Fausto's.
A view of Camogli at sunset.
Mmmmm, which candy shall we try? A group photo in Genova before our farewell dinner.
A FEW PHOTOS FROM OUR SEPTEMBER 2005 TOUR TO THE ITALIAN RIVIERA...
A panoramic view of Camogli during dinner at Ristorante Rosa; fresh produce at the morning market in Rapallo.
Two participants stop for a pose as they hike the Cinque Terre; the dazzling town of Manarola in Cinque Terre.
September is a great time for fresh porcini and other delicacies in Liguria; an inviting salumeria in Rapallo.
We were all kids in a candy store when we visited Romanengo's artisanal candy and chocolate factory in Genoa.
Sunset on the Riviera; chefs at work preparing farinata (chickpea flour pancake) in a classic Genoese restaurant.
A tour participant peeks at the wild strawbery tart we'll soon taste; chef Fausto's hats are always cause for fun... the shutters wouldn't stop when he came out wearing a Statue of Liberty cap after our lesson and lunch.
A FEW PHOTOS FROM OUR SEPTEMBER 2004 TOUR TO THE ITALIAN RIVIERA...


From left to right: Chef Marco shows an eager participant how to stretch dough for an authentic cheese focaccia in Recco; the group breaks into conga dancing during a cooking lesson in Fausto's kitchen above Rapallo.
From left to right: Chef Fausto gets some physical affection from two very happy cooks.
From left to right: Lunch on the terrace at Fausto's restaurant; a colorful platter of bruschetta.
From left to right: Two views of the quiet fishing town of Camogli.
From left to right: Making chocolate-hazelnut terrines; sunset in Sestri Levante, a breathtaking sight.
From left to right: Dimpling focaccia takes some doing, but the results are well worth the effort!
From left to right: Everyone indulges in a taste of sun-warmed, fresh-picked grapes in a vineyard; the gorgeous port town of Portofino.
From left to right: Maurizia, Rapallo's pasta queen, with an assortment of wild herbs for identification; Maurizia and Elena, nicknamed "the Fastest Hands in the West" by James, shape 10 pounds of pansotti in 5 minutes.
From left to right: The pasta demo turns into a hands-on lesson, as everyone wants to see how fast they can shape pansotti (it's no contest, and Maurizia and Elena win); Piero serves us a fresh fruit tart at our farewell dinner.
AND A FEW PHOTOS FROM OUR MAY 2004 TOURS TO THE ITALIAN RIVIERA...
From left to right: Chef Marco Pernati demonstrates how to prepare an authentic cheese-filled focaccia in Recco; two happy tour participants knead dough in Fausto's kitchen in the hills above Rapallo.
From left to right: The quaint fishing town of Camogli; after we've all enjoyed a tasting of Vladimiro's excellent Ligurian wines, he treats his bulldog pup to a lick of red wine.
From left to right: Master baker Roberto proudly pulls a gorgeous focaccia out of the oven after demonstrating proper focaccia-making technique to our group; Elena, one of Rapallo's pasta experts, helps a tour participant shape classic Ligurian ravioli.
From left to right: The glorious bay of Portofino, with its crystalline waters and breathtaking hills; candied fruit at an old-fashioned confectioner's in Genova.
From left to right: A relaxing dinner in Portofino with participants from my two May 2004 tours.
Liguria Tour Pricing & payment