Third floor kitchen and dining area
Second floor kitchen and dining area
Photos from recent cooking parties & hands-on cooking classes at Rustico Cooking NYC...
Rolling pasta squares for handmade garganelli; the finished product, ready to sauce with a homemade ragu.
Concentrating on making perfect ravioli; crispy focaccia stuffed with greens and sausage.
A tray of yam gnocchi ready for the pot; wine-poached shrimp over baby greens at a seafood class.
A glorious focaccia topped with broccoli raab; freshly baked almond-laced chocolate meringues.
Presentation is key to a memorable dinner; kneading dough for perfect handmade pasta.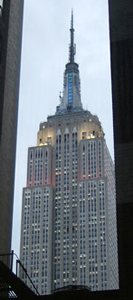 Busy cooks at the range season, sear, and saute; our view of the Empire State Building.
Limoncello and berry mousse; mixing a decadent chocolate cake batter.
Pasta hands; mmmmm, those molten chocolate cakes look GOOD!!!!
Two happy cooks whip up chocolate chunk bread pudding; kneading pasta dough is hands-on work.
Cracking eggs for raspberry-chocolate cakes; sticky hands are part of the fun.
Sauteing and plating are part of the kitchen experience.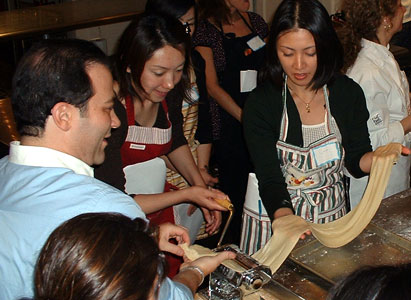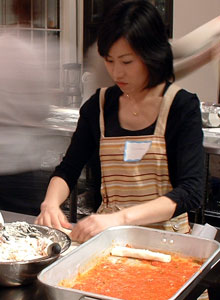 Rolling out lasagna sheets; rolling homemade cannelloni using our freshly made lasagna.
Getting ready to cut pasta into tagliatelle; chocolate-dipped hazelnut biscotti.
Everyone is busy creating the perfect pizza; chef Gerry and her trademark infectious smile.
Whipping up a luscious molten chocolate cake at a private cooking event; the finished dessert.
Filling chocolate-tiramisu tartlets; truffled salmon carpaccio.
Making homemade gnocchi in class, before a wine tasting; our charismatic Wine Director Costas Mouzouras.
Eggplant bundles stuffed with herbed Ricotta mousse; a delectable dessert in the making.

Jason proposed to Suzanne after a private cooking class; Micol with the happy couple.
Click here for information on cooking parties or our cooking lesson calendar or call 917-602-1519.
Follow us on
twitter and
facebook for news, special offers and promotions...
Be sure to subscribe to our blog for recipes and cooking tips!
For more recipes, info and tips & tricks, sign up for our newsletter.