Wine in Italy
Italians take wine very seriously. And just as they eat regionally, Italians drink regionally. Go to Tuscany, and you will find locals drinking Chianti, Vernaccia di San Gimignano, Brunello di Montalcino, and other Tuscan wines with their meals. Head to Abruzzo, and you will find Montepulciano d'Abruzzo, Cerasuolo d'Abruzzo, or Trebbiano d'Abruzzo on the table.
Italy is the largest producer of wine in the world, and it exports much of its wine to North America. Every Italian region produces good wine (some more than others, of course). Italian wines run the gamut from fresh, lively wines (either red, white, or rosé) best sipped young to deep, noble wines meant to mature in a cool cellar.
Every Italian wine belongs to one of four legal categories: DOC (Denominazione di Origine Controllata, or Denomination of Controlled Origin), DOCG (Denominazione di Origine Controllata e Garantita, or Denomination of Controlled and Guaranteed Origin), VdT (Vino da Tavola, or Table Wine), or IGT (Identificazione Geografica Tipica, or Typical Geographic Identification). DOC and DOCG regulations specify the grapes to be used for a specific wine, the yield of grapes per hectare, the production zone, the manner in which the wine is to be vinified, and the aging period. While by and large the country's best wines have historically been labelled DOC or DOCG, nowadays a number of Italy's most sought-after wines do not comply with strict DOC or DOCG laws (which stipulate almost exclusive use of local grape varietals) and are categorized as VdT or IDG wines; this is the case, for example, for Tuscany's renowned super-Tuscans, a class of expensive wines vinified from a blend of indigenous and imported grape varietals.
Pairing Food and Wine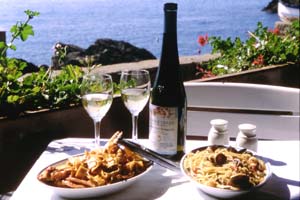 One way to approach Italian wine is to pair regional wines with regional recipes. In other words, if you're cooking a meal from Molise, stick with wines from Molise; if something Sicilian is on the menu, look to Sicilian wines instead. This is certainly a valid, and traditional, starting point, but it can also be limiting: sometimes the best food and wine pairings require that you step outside regional boundaries, especially for those regions where a narrower range of wines is vinified.
Apéritifs and cocktails: Sparkling wines work well; I like Spumante Brut or Prosecco.
Fish, seafood, pasta in cream sauce: Whites tend to be better here; try Bianco di Custoza, Chardonnay, Falerio, Fiano di Avellino, Frascati, Friulano, Galestro, Gavi, Greco di Tufo, Orvieto, Pinot Bianco, Pinot Grigio, Soave, Verdicchio, or Vernaccia di San Gimignano.
Poultry, veal, pasta in tomato or meat sauce: Light-bodied or medium-bodied reds are ideal; pour Barbera, Bardolino, Chianti, Dolcetto, Grignolino, Lambrusco, Merlot, Montepulciano d'Abruzzo, Nebbiolo, Rosso di Montalcino, or Valpolicella.
Game, fowl, roasts, red meat, and aged cheeses: Full-bodied reds are most suitable; serve Amarone, Barbaresco, Barolo, Brunello di Montalcino, Cabernet Sauvignon, Carmignano, Chianti Classico Riserva, Gattinara, Refosco, Rosso Piceno, Salice Salentino Classico, Taurasi, or Vino Nobile di Montepulciano.
Sweets: Sparkling or sweet wines, sometimes fortified, pair nicely; try Asti Spumante, Malvasia, Marsala Superiore or Vergine, Moscato d'Asti, Picolit, or Vin Santo.
WINE CLASSES IN NYC
There are few things better in life than a great wine. Perhaps a great wine paired with great food... enjoyed in great company!
That's why I decided to offer wine tasting classes. Geared to wine aficionados, these classes are the best way to learn more about Italy's top wines and enjoy a fabulous meal.
The classes combine a hands-on cooking lesson (45 minutes of cooking) featuring extraordinary ingredients (think wild mushrooms, duck, aged Parmigiano Reggiano, and the like) with an informative, entertaining wine tasting that will give you the unique opportunity to taste some of Italy's top wines: from Super Tuscans to Piedmont's big, bold reds, you will experience memorable Italian wines and learn more about what makes them special. Each wine will be introduced by a master sommelier, its flavor profile and best pairings discussed.
Wine tastings last from 6 PM to 9 PM on weeknights, and are led by Costas Mouzouras, RUSTICO's charismatic Wine Director (from NYC's Gotham Wines; pictured at left). Tastings always sell out fast, so be sure to reserve early!
If you'd like to host a wine tasting for your next corporate event or private party, call 917-602-1519 to inquire about rates, menus, and availability.
Wine Terminology
Knowing what the words on an Italian wine label mean will help you make smarter purchases at the wine store.
Abboccato: Slightly sweet
Amabile: Semi-sweet
Annata: Vintage year
Bianco: White
Brut: Dry sparkling wine
Classico: Wines produced in the best zone of a production area
Denominazione di Origine Controllata, or DOC: Denomination of Controlled Origin
Denominazione di Origine Controllata e Garantita, or DOCG: Denomination of Controlled and Guaranteed Origin
Dolce: Sweet
Fattoria: Farm or estate
Frizzante: Lightly sparkling
Identificazione Geografica Tipica, or IGT: Typical Geographic Identification
Liquoroso: High-alcohol wine, often fortified
Metodo Classico: Sparkling wines produced using the champenoise method
Novello: New wine marketed shortly after the harvest
Passito: Wine made from dried, or raisined, grapes; often, but by no means always, sweet
Produttore: Producer
Riserva: Reserve wine, aged for the duration of time specified by law
Rosato: Rosé
Rosso: Red
Secco: Dry
Spumante: Sparkling
Tenuta: Farm or estate
Vendemmia: Harvest
Vino da Tavola, or VdT: Table Wine
Recipes
Chianti-Poached Pears Stuffed with Gorgonzola-Walnut Cream
Select a young, creamy Gorgonzola for the stuffing; it is usually labeled Dolcelatte in Italian markets and cheese shops.
For the pears:
2 cups Chianti Classico
1/3 cup sugar
1 cinnamon stick
1 strip orange zest
4 ripe pears, peeled, halved, and cored
For the Gorgonzola mousse:
1/2 pound young Gorgonzola, rind removed, cut into ½-inch pieces
1 cup walnut halves, plus 8 walnut halves for garnish
1 cup heavy cream, plus extra if needed
1/2 cup honey
Make the pears: Combine the Chianti, 2 cups of water, the sugar, cinnamon, and orange zest in a 3-quart pot. Bring to a gentle boil over medium heat, stirring until the sugar dissolves, and drop in the pear halves, cut side down. Cook until the pear halves are tender when pierced with a knife, turning once to cook evenly, about 15 to 25 minutes total (watch that they do not overcook, or they will fall apart).
Meanwhile, make the Gorgonzola mousse: In a food processor, combine the Gorgonzola, 1/2 cup of the walnut halves, and the cream until smooth; add more cream if needed to thin it out. The mousse should be as thick as jam. Refrigerate 30 minutes (or up to 2 days) to firm it up; this makes piping easier.
Using a slotted spoon, remove the pear halves from the poaching liquid; place on 8 plates, cut side up. Reduce the poaching liquid until it becomes almost syrupy in consistency, about 15 minutes over medium heat, watching that it does not caramelize or burn. Discard the cinnamon and orange zest.
Spoon the Gorgonzola mousse into a pastry bag fitted with a star tip. Pipe the Gorgonzola mousse into the hollow of each pear half in a pretty rosette pattern. Top each rosette of mousse with a walnut half. Pour the warm reduced syrup over the pears and drizzle with the honey. Serve within 15 minutes. Serves 8
Wine Table
| | | | |
| --- | --- | --- | --- |
| Wine | Region(s) | Color(s) | Characteristics |
| Aglianico del Taburno DOC | Campania | Red; white | The red is deep, robust; the white is light. |
| Aglianico del Vulture DOC | Basilicata | Red | Hearty, tannic, harmonious, robust; dry with a berry fragrance. Medium-sweet or sparkling versions are good dessert wines. |
| Albana di Romagna DOCG | Emilia-Romagna | White | Vinified dry, medium-sweet, sweet, and raisined; lightly aromatic, warm, harmonious. |
| Aleatico di Gradoli DOC | Latium | Red | Garnet red, with violet tints; fine aroma, fresh, fruity. Also vinified in a fortified dessert version. |
| Aleatico di Portoferraio | Tuscany | Red | Delicately sweet wine from the isle of Elba. |
| Aleatico di Puglia DOC | Apulia | Red | Delicate bouquet, full-bodied, moderately sweet and velvety; exists in a raisined version. |
| Aleatico di Rionero | Basilicata | Red | Dessert wine with a haunting aroma. |
| Alezio DOC | Apulia | Red; rose | The red is airy and full when aged, with a slight bitter aftertaste; the rose is dry, persistent, and velvety. |
| Alghero DOC | Sardinia | Red; white; rose | This denomination includes 19 wines, vinified still, fizzy, sparkling, raisined, and fortified. |
| Amarone DOC | The Veneto | Red | Hauntingly flavored , warm, muscular, robust; made from raisined grapes |
| Anghelu Ruju | Sardinia | Red | An extraordinary port-like wine, deeply perfumed with rich berry and spice, medium-sweet. |
| Aprilia DOC | Latium | Red; white; rose | The red is medium-bodied; the white is subtle, with good acidity; the rose is best enjoyed young. |
| Arborea DOC | Sardinia | Red; white; rose | Vinified dry or medium-sweet; delicate aroma, fresh, harmonious taste. |
| Arnad Montjovet | Val d'Aosta | Red | Harmonious, dry, gently bitter wine with delicate almond undertones. |
| Asprinio di Aversa DOC | Campania | White | Fresh, distinctive, with a fruity aroma; also vinified sparkling. |
| Assisi DOC | Umbria | Red; white; rose | The red is intense and fruity; the white is fresh, dry, and lightly bitter; the rose is delicate, dry, and harmonious. |
| Asti Spumante DOCG | Piedmont | White | One of Italy's most famous sparkling wines, produced by the Charmat method of fermentation; with persistent mousse and fine bubbles, it is intense, aromatic, delicately sweet, with a crisp acidity and ripe flavor of the Moscato grape from which it is made. |
| Bagnoli DOC | The Veneto | Red; white; rose | The red is velvety and delicately sweet; the rose has a slightly winy perfume and pleasant bouquet, and is vinified both dry and ever-so-slightly sweet; the white is dry or slightly sweet and velvety. Vinified both still and sparkling. |
| Barbaresco DOCG | Piedmont | Red | Intensely fragrant, robust, harmonious, dry, intense, austere yet velvety; aged a minimum of 26 months. |
| Barbera DOC | Piedmont | Red | Dry, medium-bodied becoming full-bodied after aging; the one from Asti is best, slightly fruity and mellow. |
| Bardolino DOC | The Veneto | Red; rose | Elegant, medium-bodied, silky, highly fruity, with a berry aroma; one of Italy's best novello wines. |
| Barolo DOC | Piedmont | Red | Dry, full-bodied, silky, robust; aged a minimum of 3 years, but best after 5 to 8. Aerate 2 hours before serving. |
| Bianchello del Metauro DOC | The Marches | White | Straw-yellow in color, with a dry, fresh, harmonious taste and delicate aroma. |
| Bianco Capena DOC | Latium | White | Dry, slightly aromatic; also vinified medium-sweet. |
| Bianco di Alcamo DOC | Sicily | White | Pale straw-yellow with green tints; neutral nose, grapey scent, dry and fruity taste. |
| Bianco di Custoza DOC | The Veneto | White | Perfumed, lightly aromatic fragrance; well-balanced with good body; best sipped within 1 year of bottling. |
| Bianco di Pitigliano DOC | Tuscany | White | Zesty, delicate, dry wine with a slightly bitter finish, medium-bodied and soft; also vinified in a sparkling version. Best within 1 year of vintage. |
| Bianco di Scandiano | Emilia-Romagna | White | The region's most interesting indigenous white; pleasantly aromatic, fresh, and harmonious; vinified still and sparkling. |
| Biferno DOC | Molise | Red; white; rose | Dry, harmonious, ethereal, and velvety ruby-red wine that ages well. There is also a delicately aromatic white version and a rose version that is best drunk within 1 year. |
| Bivongi DOC | Calabria | Red; white; rose | The red is produced in a novello and riserva version; the rose is delicately fruity; the white is dry, fruity, and harmonious. |
| Blanc de La Salle | Val d'Aosta | White | Dry, acidic, lightly fizzy, with undercurrents of mountain herbs. |
| Blanc de Morgex | Val d'Aosta | White | Delightful nuance of fresh herbs; best enjoyed in its first year of life. |
| Bonarda | Piedmont/Lombardy | Red | Pleasant, fruity wine with a scent of grapes; meant to be drunk young. |
| Bosco Eliceo DOC | Emilia-Romagna | Red; white | The red is intense, moderately tannic; the white is light. Vinified both still and sparkling. |
| Botticino DOC | Lombardy | Red | Its vinous aroma becomes airy as the wine ages; warm, full-bodied taste. |
| Brachetto d'Acqui DOCG | Piedmont | Red | Wine with a soft, mellow, delicately musty truffle scent and color of strawberries; exists in a sparkling version as well. |
| Brachetto d'Albenga | Liguria | Red | Wine with scent of wild flowers and a tendency to become velvety with age. |
| Brindisi DOC | Apulia | Red; rose | The red is harmonious and velvety; the rose is coral-pink with a fruity aroma and dry taste. |
| Brunello di Montalcino DOCG | Tuscany | Red | Intense ruby-red, dry, tannic, robust, with a persistent bouquet and dried fruit, tobacco, and plum notes; aged 2 years in casks. |
| Cacce Mitte di Lucera DOC | Apulia | Red | Distinct, intense aroma, full-bodied taste with a firm aftertaste. |
| Cagnina di Romagna DOC | Emilia-Romagna | Red | Slightly tart, rather tannic, with a color that shows violet tints. |
| Caldaro DOC | Trentino-Alto Adige | Red | Soft taste hinting at almonds and a delicate aroma. |
| Campi Flegrei DOC | Campania | Red; white | Unique flavors and aromas characterize these wines; vinified still or sparkling, sometimes from raisined grapes. |
| Campidano di Terralba DOC | Sardinia | Red | Dry, full-bodied, distinctive; intense bouquet and dry taste. |
| Cannonau di Sardegna DOC | Sardinia | Red; rose | The red is robust, bold, dry, with a substantial body and muscular structure; the rose is dry. Also vinified fortified and sweet. |
| Capri DOC | Campania | Red; white | The red is medium-bodied and fruity; the white can be aged up to 5 years. |
| Carema DOC | Piedmont | Red | High-acidity wine, pleasant and dry, with a bouquet reminiscent of roses. |
| Carignano del Sulcis DOC | Sardinia | Red; rose | Six wines are sold under this label; also vinified in novello and raisined versions. |
| Carmignano DOCG | Tuscany | Red | Full-bodied nose, low acidity, firm tannins, violet tones that become more intense with age; dry, soft, velvety. |
| Carso DOC | Friuli-Venezia Giulia Red | Red | Ruby wine with a dry flavor and harmonious finish. |
| Castel del Monte DOC | Apulia | Red; white; rose | A number of wines are produced under this label; the red, aged more than 2 years, is fairly robust and dry, the white is dry and refreshing, and the rose is delicate and lightly fragrant. |
| Castel San Lorenzo DOC | Campania | Red; white; rose | The red is ruby-hued, intense, dry, tannic and acidic when young, velvety when aged; the white is refreshing, crisp, fruity, lightly bitter; the rose is subtle, dry, and velvety. Vinified in a sparkling version as well. |
| Casteller DOC | Trentino-Alto Adige | Red | Ruby color and intense perfume; best sipped within 2 years. |
| Castelli Romani DOC | Latium | Red; white; rose | Vinified in dry, semi-dry, sparkling, and novello versions, Castelli Romani are the most famous wines of the region and comprise the following appellations: Colli Albani; Colli Lanuvini; Frascati; Marino; Montecompatri Colonna; and Velletri. |
| Cataratto | Sicily | White | Intense, with a slight bitter aftertaste. |
| Cellatica DOC | Lombardy | Red | Dry and vivacious with a slightly bitter aftertaste. |
| Cerasuolo d'Abruzzo | Abruzzo | Red | The region's second most important red; fruity, intense, dry, with a deep cherry color. |
| Cerasuolo di Vittoria DOC | Sicily | Red | Cherry-red color, intense, delicate bouquet, and full, round, harmonious flavor. |
| Cesanese DOC | Latium | Red | Delicate bouquet and soft, bitterish taste; ranges from dry to sweet and is vinified still and sparkling. |
| Chambave Moscato | Val d'Aosta | White | The most famous of the region's wines, with a straw yellow color and intense aroma characteristic of muscat; also vinified in a sweet raisined version. |
| Chianti DOC | Tuscany | Red | Dry, with tannins that become mellow over time; aroma reminiscent of violets. |
| Chianti Classico DOCG | Tuscany | Red | Dry, tannic, mellowing with age; aroma reminiscent of violets. Vinified in the heartland of the Chianti zone. |
| Chiaretto del Garda | Lombardy | Red | Wine with an intense bouquet, slight almond aftertaste, and hints of flowers. |
| Cilento DOC | Campania | Red; white; rose | The red is dry and full-bodied; the white is straw-yellow in color, fresh, and delicate; the rose is harmonious and fresh. |
| Cinque Terre DOC | Liguria | White | Crisp wine, refreshing, with a bracing acidity. |
| Ciro DOC | Calabria | Red; white; rose | The red is warm, harmonious, velvety with age; the white is vivacious, dry, delicate; the rose is refreshing. |
| Colli Altotiberini DOC | Umbria | Red; white; rose | The red has a round taste; the white is well-balanced; the rose is slightly fruity and offers a zesty bouquet. |
| Colli di Bolzano | Trentino-Alto Adige | Red | Full-flavored, perfumed, soft, and harmonious. |
| Colli Maceratesi DOC | The Marches | White | Dry, balanced, with a characteristic bouquet. |
| Controguerra DOC | Abruzzo | Red; white | The red is dry and slightly tannic; the white is fruity and dry with a bitterish aftertaste, and is vinified both still and fizzy. |
| Copertino DOC | Apulia | Red; rose | The red is dry, with a slightly bitter finish and persistent bouquet; the rose is light. |
| Cori DOC | Latium | Red; white | The red is persistent, with a lingering bouquet and dry, fresh, velvety flavor; the white is delicate, dry to medium-dry, and medium-bodied. |
| Coronata | Liguria | White | Hard-to-come-by, dry, harmonious wine. |
| Costa d'Amalfi DOC | Campania | Red; white; rose | The red and rose are light and medium-bodied; the white is light, crisp, bracingly acidic. |
| Dolcetto DOC | Piedmont/Liguria | Red | An everyday wine best drunk young; refreshing and straight-forward. |
| Donnas DOC | Val d'Aosta | Red | The vines for this glorious wine are protected from the harsh north wind and yield what many have called a "perfect wine, with a fine perfume and medium body. |
| Donnici DOC | Calabria | Red; white; rose | The red is dry and harmonious; the white is dry, harmonious, at times fruity; the rose can be fragrant. |
| Eloro DOC | Sicily | Red; rose | Five red and one rose wine produced under various names, including Nero d'Avola, Pignatello, Pachino, and Frappato, depending on the grapes used. |
| Enfer d'Arvier DOC | Val d'Aosta | Red | he French enfer means "hell, but this heavenly wine is pleasantly bitter and has a characteristic bouquet. |
| Epomeo | Campania | White | Crisp, light, sunny wine. |
| Erbaluce di Caluso DOC | Piedmont | White | Dry, full, and rich; also vinified in a rare raisined version. |
| Esino DOC | The Marches | Red; white | The red has a fruity bouquet and dry, harmonious flavor; the white is fruity and fresh. Also vinified in novello and sparkling versions. |
| Est! Est!! Est!!! DOC | Latium | White | Delicately aromatic white with a dry, persistent, balanced flavor; made in the province of Viterbo since at least 1200. |
| Etna DOC | Sicily | Red; white; rose | Vinified at the foot of the still-active Etna volcano since at least the sixteenth century. The red and rose are warm, perfumed, dry, and robust; the white is dry, fresh, with golden tones. |
| Falanghina | Campania | White | Delicately acidic, dry; also vinified in a sparkling version. |
| Falerio dei Colli Ascolani DOC | The Marches | White | Lightly scented, dry, somewhat bitter. |
| Falerno del Massico DOC | Campania | Red; white | The famous Falernum of ancient Rome; the red has an intense perfume and a dry, robust, harmonious flavor; the white is dry, zesty, with light green tones. |
| Faro DOC | Sicily | Red | Ruby-red, medium-bodied wine with a delicate, airy, and persistent bouquet and ethereal, dry, harmonious flavor. |
| Favorita | Piedmont | White | White with a notable citrus aroma that can stand aging. |
| Fiano d'Avellino DOC | Campania | White | One of the few white wines suitable for prolonged aging; it has a pear finish. |
| Franciacorta DOCG | Lombardy | White; rose | Dry or off-dry spumante (sparkling wine) with abundant fine perlage. |
| Franconia | Friuli-Venezia Giulia | Red | Dry, slightly fruity, and aromatic; ages well. |
| Freisa DOC | Piedmont | Red | Wine with a strong blackberry scent; vinified dry, sweet, and sparkling. |
| Friulano | Friuli-Venezia Giulia/The Veneto | White | The Tocai of old, a white not related to the Tokay of Alsace or the Tokaji of Hungary; light in both color and body, slightly bitter, with a floral aroma and a hint of almonds, it is intended to be drunk young. |
| Friuli Aquileia DOC | Friuli-Venezia Giulia | Red; white; rose | Wines produced from various grapes; vinified still and sparkling. |
| Friuli Grave DOC | Friuli-Venezia Giulia | Red; white; rose | Numerous wines, both still and sparkling, from a variety of indigenous grapes. |
| Friuli Isonzo DOC | Friuli-Venezia Giulia | Red; white; rose | Over a dozen wines obtained from different grapes; still or sparkling. |
| Friuli Latisana DOC | Friuli-Venezia Giulia | Red; white; rose | Different wines vinified still or sparkling from local grapes. |
| Galatina DOC | Apulia | Red; white; rose | Vinified in 5 versions, including a novello. |
| Galestro | Tuscany | White | Light and fresh, with a fruity scent and notable aftertaste. |
| Galluccio DOC | Campania | Red; white; rose | The rich volcanic soil of the Roccamonfina volcano yields intense, sunny wines. |
| Gambellara DOC | The Veneto | White | Harmonious, dry, with an accentuated perfume and delicate bitterness. |
| Garganega | The Veneto | White | Medium-bodied, straw-yellow in color, with a characteristic perfume, dry flavor, and slight bitterness. |
| Gattinara DOCG | Piedmont | Red | Perfume evocative of violets; dry, harmonious, with a pleasantly bitter finish, it ages well. |
| Gavi DOCG | Piedmont | White | Dry, delicate, fruity, aromatic, and balanced; vinified still, fizzy, or sparkling. |
| Ghemme DOCG | Piedmont | Red | Dry, with a pleasantly bitter finish and violet notes; aged a minimum of 3 years |
| Gioia del Colle DOC | Apulia | Red; white; rose | Numerous wines, including Primitivo and Aleatico, are produced in this area in dry, sweet, and fortified versions. |
| Giro di Cagliari DOC | Sardinia | Red | Sweet, and sometimes dry, fortified wine from the province of Cagliari. |
| Gravina DOC | Apulia | White | White with a pleasant bouquet and delicate flavor; vinified still and sparkling. |
| Greco di Bianco DOC | Calabria | White | This amber-hued, luscious, coppery dessert wine is vinified from what may be Italy's oldest varietal, the Greco grape, in the town of Bianco; it is soft, ethereal, with a balanced flavor and airy bouquet. |
| Greco di Tufo DOC | Campania | White | Has an almond and peach aftertaste; also vinified in a sparkling version. |
| Grignolino DOC | Piedmont | Red | Pronounced acidity and good structure; best savored young. |
| Grillo | Sicily | White | Wine with a woody nose and good viscosity. |
| Guardiolo or Guardia Sanframondi DOC | Campania | Red; white; rose | The red is velvety, dry, best after 1 to 4 years; the white is dry and straw-yellow in color; the rose is subtly fruity in some bottlings. |
| Gutturnio | Emilia-Romagna | Red | Characterful wine with good potential for wood aging. |
| Inzolia | Sicily | White | Delicate nose, medium body, good acidity. |
| Lacrima di Morro d'Alba DOC | The Marches | Red | Scent of red fruit and underwood and a full-bodied flavor; also vinified from raisined grapes. |
| Lacryma Cristi | Campania | Red; white; rose | Vinified at the foot of Mount Vesuvius; the red is dry, harmonious, ruby-red; the white is lightly acidic; the rose is off-dry, less intense than the red. Also vinified in fortified and sparkling versions. |
| Lagrein | Trentino-Alto Adige | Red; rose | Somewhat tannic, soft, velvety red with real character; fragrant yet robust rose. elegant and fresh. |
| Lambrusco DOC | Emilia-Romagna | Red; rose | Sparkling wine which became wildly popular in the US in the 1980s in its slightly sweet incarnation, Lambrusco Reggiano. Good Lambrusco is dry or off-dry, with a pronounced acidity. |
| Lamezia DOC | Calabria | Red; white; rose | The red has a pleasant, at times fruity bouquet and dry flavor; the white is vinous, dry, velvety, and full; the rose is delicate, fragrant, and dry. |
| Leverano DOC | Apulia | Red; white; rose | The red is ethereal, tending to brick-color with age; the white is delicate, soft, and dry; the rose is fruity when young. |
| Lizzano DOC | Apulia | Red; white; rose | Six wines are produced under this label, including a Malvasia Nera that is velvety and lightly aromatic. |
| Loazzolo DOC | Piedmont | White | Golden-hued dessert wine made from Moscato grapes that are dried on the vine and allowed to develop noble rot, thereby acquiring an intense aroma and high alcohol content. |
| Locorotondo DOC | Apulia | White | Delicate, best sipped in its first year; still or sparkling. |
| Lugana DOC | Lombardy/The Veneto | White | Dry, quaffable, with a pronounced acidity and versatile character. |
| Malvasia di Casorzo d'Asti DOC | Piedmont | Red; rose | Sweet wine made in a still, sparkling, and raisined version; fragrant and aromatic. |
| Malvasia di Castelnuovo Don Bosco DOC | Piedmont | Red | Sweet, fragrant sparkling wine; lightly aromatic. |
| Malvasia | Basilicata | White | Dry, sweet, or sparkling. |
| Malvasia | Friuli-Venezia Giulia | White | Dry, straw-yellow, aromatic, and harmonious. |
| Malvasia delle Lipari DOC | Sicily | White | An amber-hued, noble dessert wine from the Aeolian islands; also vinified in a raisined and fortified version. |
| Malvasia di Bosa DOC | Sardinia | White | Straw-yellow wine that ranges from dry to sweet, with a light bitter aftertaste; sometimes fortified. |
| Malvasia di Cagliari DOC | Sardinia | White | The dry version of this wine has a characteristic toasted almond aftertaste; the fortified version is very refined and has an intense aroma. |
| Mandrolisai DOC | Sardinia | Red; rose | The red has a dry flavor and characteristic perfume; the rose has a pleasant aroma and slight bitter aftertaste. |
| Marsala DOC | Sicily | White; red | A fortified wine; various types of Marsala exist, classified according to age (the extra old is matured 10 years). A red Marsala has recently been introduced. |
| Martina Franca DOC | Apulia | White | Dry, delicate, fresh; vinified still or sparkling. |
| Marzemino | The Veneto/ Trentino-Alto Adige | Red | Subtle hints of wood in some bottlings; still or sparkling, with a dry, herbaceous scent. |
| Matino DOC | Apulia | Red; rose | The red is ruby to garnet with a pleasantly bitterish vein; the rose is lighter and crisper on the palate. |
| Melissa DOC | Calabria | Red; white | The red has a savory, full-bodied flavor; the white has a grapey bouquet and delicate flavor. |
| Meranese | Trentino-Alto Adige | Red | Delicate perfume; best savored within 1 year of production. |
| Monica di Cagliari DOC | Sardinia | Red | Vinified in a dry and fortified version. The dry wine has an ethereal perfume and soft, velvety flavor; the fortified version presents a distinct aroma. |
| Monica di Sardegna DOC | Sardinia | Red | Light ruby red wine with an intense perfume and dry or slightly sweet flavor; a sparkling version also exists. |
| Montefalco | Umbria | Red; white | The red is harmonious, dry, and velvety; the white is lightly fruity and dry. |
| Montefalco Sagrantino DOC | Umbria | Red | Highly tannic, with a medium-dry, full-bodied flavor and blackberry aroma. Also vinified in a raisined version. |
| Montepulciano d'Abruzzo DOC | Abruzzo | Red | Abruzzo's most important red; plummy, velvety, and dry, it ages well. |
| Morellino di Scansano DOC | Tuscany | Red | Dry, austere, warm, and tannic with an airy, intense bouquet; ages beautifully. |
| Moscadello di Montalcino DOC | Tuscany | White | Sweet, amber-hued dessert wine; vinified still and sparkling. |
| Moscato | Basilicata | White | Semi-sweet and lightly sparkling dessert wine from the fertile Vulture zone. |
| Moscato d'Asti DOCG | Piedmont | White | Sweet, aromatic, lively, only slightly fizzy. |
| Moscato di Cagliari DOC | Sardinia | White | Exquisitely sweet, velvety dessert wine with a grapey scent; a fortified version is also vinified. |
| Moscato di Noto DOC | Sicily | White | Aromatic dessert wine vinified in a still, sparkling, and raisined version. |
| Moscato di Pantelleria DOC | Sicily | White | Golden dessert wine which can be naturally sweet, sparkling, raisined, or fortified. |
| Moscato di Sardegna DOC | Sardinia | White | A sparkling muscat wine with a straw-yellow color and spiced bouquet. |
| Moscato di Siracusa DOC | Sicily | White | Slightly dried grapes yield this golden wine with amber reflections; its characteristic aroma and delicate, velvety taste make it a superb dessert wine. Increasingly hard to find. |
| Moscato di Sorso-Sennori DOC | Sardinia | White | Full, sweet-flavored dessert wine with an intense bouquet; also vinified in a fortified version. |
| Moscato di Trani DOC | Apulia | White | Golden dessert wine with a velvety, sweet taste; vinified in a naturally sweet and fortified version. |
| Moscato Giallo | Trentino-Alto Adige | White | Aromatic and intense dessert wine. |
| Moscato Rosa | Trentino-Alto Adige /Friuli-Venezia Giulia | Rose | Rose vinified in a still or sparkling version, with a perfume of roses. |
| Muller-Thurgau | Trentino-Alto Adige /Friuli-Venezia Giulia | White | Harmonious, dry, and lively, with good acidity and fruitiness. |
| Nardo DOC | Apulia | Red; rose | Velvety with a slight bitter aftertaste. |
| Nasco di Cagliari DOC | Sardinia | White | Delicate, with a subtle aroma of grapes; the fortified version tends towards gold in color. |
| Nebbiolo d'Alba DOC | Piedmont | Red | Red with less intensity and character than Barbaresco or Barolo; good for everyday drinking. |
| Nero d'Avola | Sicily | Red | Lively ruby-red color, dry flavor, lightly tannic, well-structured; plum and cherry on the nose, with a light to medium body. |
| Nuragus di Cagliari DOC | Sardinia | White | Still or sparkling, with a pleasant acidity; easy to drink and harmonious. |
| Nus Malvoisie | Val d'Aosta | White | Amber yellow color, intense nose, and dry flavor; the raisined version presents a notable chestnut aftertaste and is sweet. |
| Nus Rosso | Val d'Aosta | Red | Lightly herbaceous overtones; better after 3 years of aging. |
| Oltrepo Pavese Rosso DOC | Lombardy | Red | Rich, potentially peppery, with an intense aroma. |
| Orta Nova DOC | Apulia | Red; rose | Dry, balanced, tannic red; slightly fruitier rose. |
| Orvieto DOC | Umbria | White | A dry, medium-dry, or (rarer nowadays) sweet wine vinified since Etruscan times; the best is Orvieto Classico or Orvieto Classico Superiore, which offer rich honey, nut, and peach notes. |
| Ostuni DOC | Apulia | Red; white | The red is known as Ottavianello and offers a dry, harmonious flavor; the white has a delicate perfume and clean taste. |
| Penisola Sorrentina DOC | Campania | Red; white | This denomination includes a naturally sparkling red, a still medium-bodied red, and a dry white. |
| Pentro d'Isernia DOC | Molise | Red; white; rose | The red wine is dry, balanced, full-bodied; the white is delicate and fresh; the rose is medium-bodied and crisp. |
| Picolit | Friuli-Venezia Giulia | White | Renowned dessert wine, sometimes made from raisined grapes; offers hints of peaches and apricots. |
| Piedirosso | Campania | Red | Dry, medium-bodied, with moderate tannins; also vinified in a raisined version. |
| Pigato | Liguria | White | Refreshing wine produced in a dry, semi-sweet, raisined, or sparkling version. |
| Pignolo | Friuli-Venezia Giulia | Red | Intensely hued, the wine ages marvelously in barriques. |
| Pollino DOC | Calabria | Red | Distinctive bouquet, dry, full-bodied flavor, and intense color tending towards cherry. |
| Primitivo di Manduria DOC | Apulia | Red | Vinified dry and sweet from the grape many believe to be the ancestor to Zinfandel; bold, heady, and intense. |
| Prosecco di Conegliano Valdobbiadene DOC | The Veneto | White | Sparkling wine vinified using the Charmat method, whereby a second fermentation occurs in the bottle; crisp, clean with persistent bubbles. |
| Raboso | The Veneto | Red | Violet bouquet, notable acidity and tannins; it can be aged with great success. |
| Recioto della Valpolicella DOC | The Veneto | Red | Sweet cousin of Amarone, vinified from raisined grapes; haunting aroma, full-bodied, moderately viscous. |
| Recioto di Soave DOCG | The Veneto | White | Powerful, fruity, semi-sweet or sweet, silky and well-balanced; made from raisined grapes. |
| Refosco | Friuli-Venezia Giulia | Red | Characterized by a flavor of plums and a note of almonds, a medium to full body, and rather high acidity; the best is Refosco del Peduncolo Rosso from Aquileia. |
| Refosco dal Peduncolo Rosso | Trentino-Alto Adige/Friuli-Venezia Giulia | Red | Deeply hued red, with a full, round, dry flavor and a tendency to bitterness. |
| Refrontolo Passito | The Veneto | Red | Dessert wine made from dried grapes; it offers a hint of cherries, berries, and wood. |
| Ribolla or Ribolla Gialla | Friuli-Venezia Giulia | White | Known since at least 1289, it is light-bodied, floral, delicate, fresh, lively, and high in acidity. |
| Riesling Italico | Trentino-Alto Adige | White | Delicate, crisp, mildly flowery, and vivacious. |
| Riesling Renano | Trentino-Alto Adige/Friuli-Venezia Giulia | White | Fresh, dry, lightly aromatic, light-bodied, with pronounced acidity. |
| Roero DOC | Piedmont | Red | Fragrant, fruity, velvety, persistent, and dry; meant to be sipped young. |
| Roero Arneis DOC | Piedmont | White | Noble wine with amber hues, fresh, herbaceous, almond scents, and dry flavor; also vinified in a sparkling version. |
| Rossese Bianco | Liguria | White | Rare and extraordinary wine with a citron scent and a slightly bitter finish. |
| Rossese di Dolceacqua DOC | Liguria | Red | Light ruby color, delicate bouquet, and strawberry nose; can be aged up to 10 years. |
| Rosso Barletta DOC | Apulia | Red | Dry, full-bodied; ages up to 4 years. |
| Rosso Canosa DOC | Apulia | Red | Dry, full-bodied, alcoholic taste, slightly bitter aftertaste. |
| Rosso Conero DOC | The Marches | Red | Full-bodied, harmonious, with an intense bouquet that softens as it ages; vinified in a novello version as well. |
| Rosso di Cerignola DOC | Apulia | Red | Dry, moderately tannic, full-bodied, with color that tends to brick as it ages; slight bitter aftertaste. |
| Rosso di Montalcino DOC | Tuscany | Red | Brunello's younger brother, aged 1 year in casks; vivacious, fresh, with licorice and violet scents, warm and lightly tannic. |
| Rosso di Montepulciano DOC | Tuscany | Red | A faster-maturing, lighter red than Vino Nobile di Montepulciano; dry, lightly tannic, with a violet nose. |
| Rosso Orvietano DOC | Umbria | Red | Ten varieties of red wine from the province of Terni; the Canaiolo and Ciliegiolo are especially characteristic. |
| Rosso Piceno DOC | The Marches | Red | Lightly ethereal, subtly hued wine; has a fruity bouquet when young which becomes floral as it ages. |
| Rouchet or Ruche DOC | Piedmont | Red | Delicately aromatic, fruity, medium-bodied wine with a persistent bouquet. |
| Salice Salentino DOC | Apulia | Red; white | The red has an intense aroma and is best in its first 3 years; the white offers a delicate, fruity scent. |
| San Severo DOC | Apulia | Red; white; rose | The red and rose have a pronounced bouquet and full-bodied taste; the white is fresh, well-balanced. |
| San Vito di Luzzi | Calabria | Red; white; rose | The red is velvety and dry; the white is straw-yellow, dry, and harmonious; the rose is refreshing. |
| Sangiovese di Romagna DOC | Emilia-Romagna | Red | Light and tannic when young, smoother and more complex when aged 4 years. |
| Sannio DOC | Campania | Red; white; rose | Numerous wines are produced in the area, including novello, raisined, and sparkling versions. |
| Sant'Agata dei Goti DOC | Campania | Red; white; rose | Among the various wines produced in underground cellars of this medieval town, the white is most memorable. |
| Sant'Anna di Isola Capo Rizzuto DOC | Calabria | Red; rose | Round, dry, and harmonious wines. |
| Santa Maddalena | Trentino-Alto Adige | Red | Ruby to garnet, with berry and almond aromas that become ethereal after brief aging. |
| Santa Margherita di Belice DOC | Sicily | Red; white | Numerous varietal wines are produced under this name in Agrigento. |
| Sardegna Semidano DOC | Sardinia | White | Four versions are vinified, including a sparkling version and a raisined version which tastes of ripe fruit and honey. |
| Savuto DOC | Calabria | Red; rose | Dry, full-bodied, robust yet haunting; among Calabria's best. |
| Scavigna DOC | Calabria | Red; white; rose | The red is robust; the white has greenish hues and a pleasantly fruity taste; the rose is delicate, elegant, and dry. |
| Schiava | Trentino-Alto Adige | Red | Light- to medium-bodied, velvety, with hints of violets and almonds. |
| Schiopettino or Ribolla Nera | Friuli-Venezia Giulia | Red | Known since at least 1282. Deep in color, medium-bodied, aromatically rich with hints of violets and pepper; velvety, warm, full, and elegant. |
| Sciacca DOC | Sicily | Red; white; rose | The red is lightly tannic and full-bodied; the white is delicate, fine, dry; the rose is vivacious and harmonious. |
| Sciacchetra or Cinque Terre Sciacchetra DOC | Liguria | White | Rare dessert wine made from raisined grapes on terraced hillsides by a handful of producers. |
| Sfurzat | Lombardy | Red | Dried grape wine from the mountainous Valtellina area. |
| Silvaner | Trentino-Alto Adige | White | Characteristically fruity, fresh, and harmonious. |
| Soave DOC | The Veneto | White | Best-known of the region's wines; medium-bodied, delicately bitter. |
| Solopaca DOC | Campania | Red; white; rose | Produced in still and sparkling versions; the red is rustic, with notes of tobacco; the white varies from dry to off-dry; and the rose is medium-bodied. |
| Sorni | Trentino-Alto Adige | Red; white | Ruby-hued and delicately perfumed red; the white is light-bodied, with good aroma. |
| Squinzano DOC | Apulia | Red; rose | The red is robust and moderately tannic, best aged 3 to 4 years; the rose is delicately perfumed and velvety. |
| Taurasi DOCG | Campania | Red | Airy, intense aroma, full-bodied, well-balanced, with a long finish reminiscent of chocolate and licorice; aged a minimum of 3 years. |
| Terlano | Trentino-Alto Adige | White | Wine with a good balance of acidity and a delicate, fruity character. |
| Teroldego Rotaliano DOC | Trentino-Alto Adige | Red; rose | Lively, fruity, meant to be drunk within 3 years; a rose version has a light almond vein and bitterness. |
| Terrano | Friuli-Venezia Giulia | Red | Intense ruby-red wine, dry, with a winy perfume, raspberry aroma, and pleasant acidity. |
| Terre di Franciacorta DOC | Lombardy | Red; white; rose | The red is mellow, medium-bodied; the white is crisp and fresh; the rose is light. A sparkling version is also vinified. |
| Torgiano or Torre di Giano DOC | Umbria | Red; white | The red is mellower than the Torgiano Rosso Riserva; the white is crisp, with good acidity. |
| Torgiano Rosso Riserva DOCG | Umbria | Red | Robust yet fine, packed with fruit, slightly oaky; ages well. |
| Torrette | Val d'Aosta | Red | Dry, velvety red with hints of wild rose and a tendency to develop an aroma of almond with age. |
| Traminer Aromatico or Gewurztraminer | Trentino-Alto Adige/Friuli-Venezia Giulia | White | Lightly aromatic, dry, and full-bodied, with golden hues. |
| Trebbiano d'Abruzzo DOC | Abruzzo | White | Delicate, dry, with a pronounced acidity. |
| Trebbiano di Romagna DOC | Emilia-Romagna | White | Light, crisp, simple, quaffable wine. |
| Valle d'Aosta DOC | Val d'Aosta | Red; white; rose | Numerous wines are comprised in this denomination; cool mountain air makes these wines refreshingly crisp. |
| Valpolicella and Valpolicella con Ripasso DOC | The Veneto | Red | Pleasant bouquet, velvety, bitterish, well-balanced; sometimes reminiscent of bitter almonds. Con ripasso indicates the use of unpressed skins of grapes from which Amarone or other dried grape wines are vinified for greater intensity and character. |
| Valtellina Superiore DOCG | Lombardy | Red | Dry, austere, slightly tannic, with a persistent fragrance; aged a minimum of 2 years. |
| Venegazzu | The Veneto | Red | Herbaceous scent, elegant flavor, and good structure make it a good mate for hearty fare. |
| Verbicaro DOC | Calabria | Red; white; rose | The red is sometimes aromatic, velvety on the palate; the white has a soft, dry flavor; the rose is mellow. |
| Verdicchio dei Castelli di Jesi DOC | The Marches | White | Refreshing, crisp, with light greenish hues and a grassy nose. |
| Verdicchio di Matelica DOC | The Marches | White | White vinified in a still, sparkling, and raisined version. |
| Verduzzo | The Veneto/Friuli-Venezia Giulia | White | Dry, slightly tannic, with a honey aroma; vinified in a dry and in a semi-sweet raisined version. The best is vinified in the Ramandolo area. |
| Vermentino | Liguria | White | Versatile wine with a deep straw color and grassy notes. |
| Vermentino di Gallura DOCG | Sardinia | White | Subtle, delicate aroma and dry taste; straw-yellow color, light bitter undertones. |
| Vermentino di Sardegna DOC | Sardinia | White | White with greenish highlights and a dry, fresh, acidic taste; the sparkling version presents an intense foam and fine, persistent perlage. |
| Vernaccia di Oristano DOC | Sardinia | White | Sherry-like wine with a warm, dry flavor and almond blossom notes; the fortified version can be sweet or dry. |
| Vernaccia di San Gimignano DOCG | Tuscany | White | Fine, penetrating aroma, mineral backbone, slightly bitter finish; smooth, nutty, hinting of fruit and honey. |
| Vernaccia di Serrapetrona DOC | The Marches | Red | Sparkling wine obtained from slightly raisined grapes; medium-dry or sweet, it has a refined and persistent perlage and aroma of ripe fruit, jam, flowers, and spices. |
| Vesuvio DOC | Campania | Red; white; rose | The red is ruby-hued, dry, suited to a wide range of dishes; the white is crisp and dry; the rose is less intense than the red. |
| Vin Santo DOC | | White | Raisined dessert wine with an amber hue and dry, semi-sweet, or sweet flavor. |
| Vino Nobile di Montepulciano DOCG | Tuscany | Red | Intense, dry, slightly tannic, full-bodied, robust, with hints of violets; ages well. |
| Zagarolo DOC | Latium | White | Soft and harmonious, dry or off-dry, with a straw-yellow color. |