Umbria & Tuscany Culinary Tour
SAVORING UMBRIA & TUSCANY
2010 Tour Schedule: We will not be offering any cooking tours to Italy in 2010. We'll post the schedule for future years as soon as tour dates are determined.
What could be better than a day in Tuscany and Umbria, cooking with local chefs, visiting wineries, exploring food markets, and dining at fabulous restaurants? Not much--except a week in Tuscany and Umbria doing just that: cooking, eating, exploring, experiencing the cuisine of this incredibly beautiful part of Italy.
Our week-long cooking tour of Umbria and Tuscany will provide you full immersion in the local food culture. We'll stay at a luxury four-star hotel in the medieval town of Spoleto, and from there we'll take day trips aboard our private bus to Norcia, Spello, Cortona, Montepulciano, and other classic hill towns in central Italy, where we'll enjoy cooking lessons, wine tastings, sumptuous regional dinners, and more.
photos from recent trips | client testimonials | pricing & payment | detailed itinerary | travel information |
THE UMBRIAN KITCHEN Umbria uses the foods her land offers skillfully and ingeniously, without pretense. The Umbrians will be the first to tell you that theirs is a peasant cuisine, one that remains tied to its pastoral roots, and they keep things simple more out of necessity than out of rigor or philosophy. Olive oil, golden and delicate, laces almost every dish. Bread is baked without salt, as in Tuscany. Pork, king of the Umbrian table, is at its best in Norcia, a town so renowned for its butchers that the Italian word for pork butcher is norcino. Every scrap of the pig is put to good use, and specialties like Guanciale (the salted and cured meat from the pig's cheek) are tossed into pasta sauces and pots of fava beans or peas. Sheep's milk cheese, both fresh and aged, delivers pungent flavor to soups, pastas and breads, and the precious black truffles of Spoleto and Norcia—nubby, warty and deeply aromatic—are incorporated in some of the region's most glorious preparations. Tiny lentils from the town of Castelluccio are among the region's prized offerings, cooked into hearty soups, tossed with fresh pasta, or served as a robust accompaniment to rich meat dishes. Classic Umbrian wines include Orvieto, Torgiano, Grechetto, and Montefalco Sagrantino--all of which we will savor during wine tastings and dinners in Umbria.
THE TUSCAN KITCHEN Tuscany's food is much like Tuscany's landscape: clean, sober, and soothingly simple. Building their characteristic dishes on a savvy interplay of vegetables, beans, saltless bread, and fruity olive oil, Tuscans are masters at the art of understatement; their favorite aromatics (thyme, rosemary, and fennel) are used judiciously, never squandered or wasted.
Sharp sheep's milk cheese from artisanal dairies lends saltiness and pungency to pastas, savory pies, and salads, and robust grains like farro (emmer wheat) add bulk to soups. Tuscans, self-proclaimed lovers of rice, cook risotto with cuttlefish ink, with squab, or with chicken giblets, and often add a handful of rice to vegetable soups. Ravioli and tortelli, the region's classic stuffed pastas, are filled with ricotta or potatoes and pancetta, then napped with butter and sage, tomato sauce, or a meat ragù. Along the coast, fish and seafood play a pivotal role; scorpionfish, monkfish, mullet, and other rock fish are tossed into the pot to create a thick, tomato-laced soup called cacciucco; the trick is using as many varieties of fish as possible, and puréeing the fish (heads, bones, and all) right into the broth. A special breed of cattle known as Chianina provides succulent meat for the grill, and the wild boar that roams the Tuscan woods is transformed into succulent sweet-and-sour stews and rich, rosy hams. Dessert, always more impressive on celebratory days, ranges from a dome-shaped cake called zuccotto to a flatbread studded with grapes, baked since the days of the Etruscans. Tuscany's wines are famous across the world; the most renowned are Brunello di Montalcino, Vino Nobile di Montepulciano, Chianti, Carmignano, Vin Santo, Vernaccia di San Gimignano, and the new class of Super Tuscan wines. We will enjoy a tasting of these wines during our Tuscan culinary adventure.
To reserve, call 917-602-1519 or email us.
Umbria
Nicknamed "The Green Heart of Italy," Umbria is nestled next to Tuscany in central Italy. Landlocked, entirely tucked away from the sea, it is a continuous unfolding of dulcet hills and undulating green valleys, gentle mountains and glittering lakes. Sanctuaries dot the roads, hilltop villages reign over the vast countryside, medieval castles and churches beckon behind silvery olive groves.
Tuscany
A playground for the rich and famous from all corners of the globe, Tuscany has attracted tourists and visitors since the golden age of Michelangelo, Leonardo, and the de' Medicis. From the Renaissance marvels of the Uffizi Gallery in Florence to the colorful costumes of the horse Palio in Siena and the splendors of its hilltop towns, Tuscany combines art, culture, architecture, and natural beauty in a seamless tapestry.
If you want to experience the landscape, food, and wine of Tuscany and Umbria, this is the trip for you. We are accepting a maximum of 24 people per tour. Call 917-602-1519 or email to reserve.
Testimonial: "Micol: We loved Italy- the trip was terrific - we have not stopped talking about it. Thanks again for the wonderful trip. You really took good care of us. I loved Umbria, the mountains, the old Roman construction, the architecture, the people, the kitchens and the inspiring chefs, the restaurants, the streets, our beautiful hotel in Spoleto and THE FOOD! Tuscany was beautiful also, the rolling hills and the wineries - beautiful. Thank you, thank you for taking such good care of Charley and me. Would you ever let us come again? I want to see and taste more of Italy." Sunny M., Glendora, CA
Umbria Tour Itinerary
Day 1: Spoleto
Prosecco welcome reception at our luxury four-star hotel in Spoleto, a medieval town in the heart of Umbria
Seafood lunch at a nearby restaurant.
Free afternoon for resting, shopping, or sightseeing in Spoleto
Optional visit of an artist's gallery--you'll want to meet Sandro, a local artist who captures the staggering beauty of Umbria with unusual skill
Hands-on cooking lesson with chef Mirella and Signora Ilde at one of Spoleto's best restaurants; we'll learn to roll out homemade strangozzi pasta and to cook with Umbria's tasty black truffles
Dinner on the restaurant's terrace with a view of the city; this is a panorama you won't forget!
Day 2: Norcia & Bevagna
Drive through the most breathtaking part of Umbria
Morning cooking lesson & lunch in Norcia, a town famous for its pork butchers and outstanding salumi, at the oldest restaurant in Umbria; we'll prepare a typical Umbrian antipasto, handmade pasta, a delectable main course, and a simply irresistible dessert
Leisurely lunch after cooking class
Free time in Norcia for shopping (the copper cookware here is beautiful)
Drive to the small, fairytale-like town of Bevagna, and free time for strolling in Bevagna's medieval center
Dinner at Signora Tiziana's incredible restaurant, housed in an ancient Roman amphitheater; we'll enjoy a private tour of Tiziana's lush garden, and taste a fava bean risotto that is the essence of Italian spring
Day 3: San Feliciano & Montepulciano
Visit of an eighteenth-century olive mill in San Feliciano, a pretty town perched on the shores of Lago Trasimeno, Umbria's largest lake
Lunch of fresh-caught fish at a family-run trattoria overlooking the lake
Drive through the Tuscan countryside to a famed wine estate in Tuscany for a tasting of Vino Nobile di Montepulciano and other top-rated Tuscan wines
Brief drive through Tuscany to the hilltop town of Montepulciano
Free time for shopping and unwinding in Montepulciano
Four-course dinner paired with Tuscan wines at Montepulciano's best restaurant
Day 4: Spoleto & Campello Sul Clitunno
After a leisurely breakfast and a free morning in Spoleto, we'll enjoy a light yet elegant lunch at one of Spoleto's best restaurants
Brief drive to Pigge di Trevi, where we'll shop for truffles and truffle products
Truffle hunt in the Umbrian hills, high above the fortressed town of Campello sul Clitunno, with a young trifulao (truffle hunter) and his dog--there's nothing like a freshly dug truffle!
Cooking class with chef Mimma; we'll prepare homemade vegetable lasagna and crunchy almond biscotti
Truffle-laced dinner paired with Umbrian wines
Day 5: Torgiano & Spello
Drive to Torgiano, a classic Umbrian town well-known for its wine
Hands-on cooking lesson at one of Italy's best cooking schools; we'll explore traditional Umbrian cuisine and learn essential Umbrian techniques today with a master chef
Four-course lunch of dishes prepared in class, paired with local wines
Optional visit of the olive oil and wine museum in Torgiano, adjacent to the cooking school
Afternoon in Spello, a town built entirely of pink stone
Cooking lesson at the city's best restaurant with dynamic chef Marco, famous in Italy for his innovative spin on Umbrian cuisine; Marco uses indigenous ingredients in new and delicious ways
Dinner at Marco's restaurant, located in a renovated olive mill overlooking the valley
Day 6: Montefalco & Cortona
Free morning for sleeping in or shopping in Spoleto; optional shopping excursion to purchase cheeses, cured meats, and more at Spoleto's best salumeria, where the shop-keeper will offer you a complimentary sampling of local delicacies and vacuum-pack your purchases for safe travel
Late morning drive to Montefalco, a charming hill town renowned for its Sagrantino wine and its gorgeous hand-woven linens
Stroll through Montefalco's medieval center, time for shopping and taking in the view of the Umbrian valleys below
Informal lunch at a typical trattoria in Montefalco, where we'll savor a classic Umbrian feast paired with the local wine
Afternoon visit to the hill town of Cortona (the town made famous by Frances Mayes' book Under the Tuscan Sun)
Free time for strolling in Cortona's quaint streets
Dinner at a traditional Tuscan restaurant in the historic center of Cortona, where we'll savor Tuscan spring specialties, homemade pasta, grilled meats, and more
Day 7: Spoleto - Farewell Breakfast
Farewell breakfast in the courtyard of our hotel
Check-out from the hotel.
Photo Gallery: Umbria & Tuscany Tour
Layered yogurt panna cotta in Montepulciano; chef Paolo cold-smokes salmon trout in Norcia.
Fresh breads at lunch in Bevagna; everyone's favorite was the little round focaccia!
Signora Ilde demonstrates pasta-roilling; Lily learns to cut the pasta under Ilde's supervision.
The town of Campello sul Clitunno is breathtaking from above; an eighteenth century garden in Bevagna.
Spoleto artist Sandro Bastioli creates still-life masterpieces; chef Domenico's edible dessert masterpiece.
The Avignonesi wine estate in the Montepulciano countryside; baccala-filled chickpea flour crepes in Tuscany.
An old-fashioned window display in Cortona; wines for tasting at the Avignonesi estate.
A fountain in Siena; detail of an Umbrian door arch.
The Spitella family: Mimma and Elisabetta during a cooking class; and son Alessandro leading a truffle hunt.
Our first group stops for a photo by the lake in San Feliciano (we're missing Susie & Les in the photo!).
Small-town charm in Umbria; lemon sorbetto; Bree & Deemah celebrate their wedding anniversary on the tour.
Chef Francesco (background) and Michelin-starred chef Marco Gubbiotti in Spello; a Tuscan vineyard.
Our second tour group poses with charming chef Domenico at Le Tre Vaselle Cooking School.
The Chianti countryside; daughter Elisabetta and father Giuseppe Spitella cook an impromptu spicy pasta.
Making fresh pasta in Spoleto is really hands-on; poppies bloom in the Umbrian countryside.
Pepper, anyone? A stone wheel from an olive mill; Dino enjoys bruschetta.
A quiet street in Spoleto; mother and child dressed in medieval costumes for a town festival in Assisi.
Poppies in full bloom in Umbria; morning light streaming into a kitchen during cooking class.
Ingredients for a hands-on cooking lesson; stuffed zucchini blossoms, a springtime delicacy in Italy.
Rolling out lasagna is a team effort; learning to shape bread dough into tight buns before baking.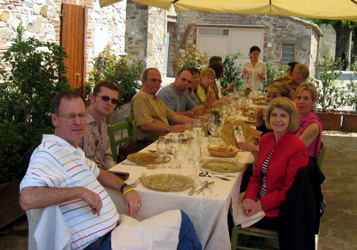 A participant gets the chef's seal of approval as he rolls out pasta by hand; lunch al fresco in Tuscany.
Wine barrels in Montefalco, Umbria; the table is set for a professional olive oil tasting.
A 14,000-pound chocolate kiss at the Perugina Chocolate Museum in Umbria; playing with a wild boar in Norcia.
A tray of delicate meatballs in chef Marco's Michelin-starred kitchen; the finished dish, farro with meatballs.
Chef Domenico's stainless steel kitchen; in the herb garden with chef Domenico after our lesson.
A truffle hunter and his hound take us on a truffle hunt; smelling a freshly dug truffle is a heady experience.
An outdoor feast of bruschetta, cheese, salami, and wine after our truffle hunt; a fresh pasta demonstration.
Rolling out a handmade pasta called pici in Montepulciano; happy cooks with zucchini blossom bouquets.
Alessandro shows us how to flambe a classic Umbrian dish; participants sharing a laugh.
Umbria & Tuscany Travel Information
Closest Airport, Transfering to Spoleto, and More...
Spoleto, the town in Umbria where we will be staying, is about 1 and 1/2 hours away from Rome. Rome is a direct flight from most major North American cities.
You can reach Spoleto in three ways: by train from the main train station in downtown Rome (the ride is just over 1 and 1/2 hours and direct as long as you book the correct train); by private car, which we can arrange for you if you like (cost is around $300 depending on the exchange rate); or driving from Rome on your own (it will take about 2 hours or more).
Keep in mind that upon arrival in Italy, you will be jetlagged. You should plan on arriving in Italy no later than one day prior to the start date of the tour, so you can get over jet lag before we begin our journey together. You can request an additional night at our hotel in Rapallo prior to the start date of our tour (or after if needed) and pay the hotel directly for your additional night(s). Just let us know if you need additional hotel nights and we will contact the hotel in Spoleto directly on your behalf.
Plan on leaving Italy no earlier than the day after our tour ends. Most flights out of Europe are early in the morning and you would miss the last morning's activities if you book a flight out the same day our tour ends (you would need to be at the Bari airport by 8 am or earlier to catch a 10 am flight, and you would also be quite tired since we will not be returning to the hotel before 10:30 pm the evening before the tour ends).
Before booking your flights, please call 917-602-1519 or email us so we can review your travel itinerary.
To purchase travel insurance, visit here.
Umbria & Tuscany Tour Pricing & payment