Chianti Castle Culinary Vacation
Chianti Castle
September 6-13, 2008
This unique culinary journey to Tuscany's most beautiful area offers you a rare chance to live like a Tuscan for a week. We'll stay on the sprawling grounds of a medieval castle halfway between Florence and Siena, in the heart of Tuscany's rolling hills, surrounded by cypress trees, olive groves, and vineyards. We'll spend our mornings in the castle's large kitchen, where we'll cook together, preparing sumptuous multi-course meals to be enjoyed al fresco overlooking the valley below. After lunch, you can relax by the pool, stroll in the herb garden, or rest under the shade of an olive tree before we head out for an afternoon of sightseeing in the Chianti countryside and discover its glorious small towns. Dinners will be enjoyed at traditional Tuscan restaurants and paired with the region's top-notch wines, including Sangiovese, Brunello di Montalcino, the Super Tuscans, and--of course!--Chianti. During our week together, we'll also visit an olive oil mill, indulge in a wine tasting, sample local Prosciuttos and fine cheeses, and meet chefs and food artisans who embody the spirit of Tuscan cooking.
photos from recent trips | client testimonials | pricing & payment | detailed itinerary | travel information | step-by-step ribollita recipe
Note: Five hands-on cooking lessons in Chianti will be led by Micol Negrin and Dino De Angelis, and will touch upon every aspect of Italian cooking: antipasti, fresh pasta, risotto, fish and meat, vegetables, side dishes, and desserts. Every hands-on lesson will culminate in a delectable al fresco buffet lunch paired with the castle's own wine.
THE TUSCAN KITCHEN Tuscany's food is much like Tuscany's landscape: clean, sober, and soothingly simple. Building their characteristic dishes on a savvy interplay of vegetables, beans, saltless bread, and fruity olive oil, Tuscans are masters at the art of understatement; their favorite aromatics (thyme, rosemary, and fennel) are used judiciously, never squandered or wasted. Sharp sheep's milk cheese from artisanal dairies lends saltiness and pungency to pastas, savory pies, and salads, and robust grains like farro (emmer wheat) add bulk to soups. Tuscans, self-proclaimed lovers of rice, cook risotto with cuttlefish ink, with squab, or with chicken giblets, and often add a handful of rice to vegetable soups. Ravioli and tortelli, the region's classic stuffed pastas, are filled with ricotta or potatoes and pancetta, then napped with butter and sage, tomato sauce, or a meat ragù. Along the coast, fish and seafood play a pivotal role; scorpionfish, monkfish, mullet, and other rock fish are tossed into the pot to create a thick, tomato-laced soup called cacciucco; the trick is using as many varieties of fish as possible, and puréeing the fish (heads, bones, and all) right into the broth. A special breed of cattle known as Chianina provides succulent meat for the grill, and the wild boar that roams the Tuscan woods is transformed into succulent sweet-and-sour stews and rich, rosy hams. Dessert, always more impressive on celebratory days, ranges from a dome-shaped cake called zuccotto to a flatbread studded with grapes, baked since the days of the Etruscans. Tuscany's wines are famous across the world; the most renowned are Brunello di Montalcino, Vino Nobile di Montepulciano, Chianti, Carmignano, Vin Santo, Vernaccia di San Gimignano, and the new class of Super Tuscan wines. We will enjoy a tasting of these wines during our Tuscan culinary adventure.
To reserve, call 917-602-1519 or email us.
Tuscany
A playground for the rich and famous from all corners of the globe, Tuscany has attracted tourists and visitors since the golden age of Michelangelo, Leonardo, and the de' Medicis. From the Renaissance marvels of the Uffizi Gallery in Florence to the colorful costumes of the horse Palio in Siena and the splendors of its hilltop towns, Tuscany combines art, culture, architecture, and natural beauty in a seamless tapestry.
If you want to experience the landscape, food, and wine of Chianti, this is the trip for you. We are accepting a maximum of 24 people on this tour. Call 917-602-1519 or email to reserve.
We also offer 3 other culinary tours:
May 11-17, 2008: Puglia & Basilicata
May 18-24, 2008: Tuscany & Umbria
May 25-31, 2008: Liguria: The Italian Riviera
Testimonial: "As I look out my window, I'm remembering the view from our villa in Tuscany...What a fabulous, fabulous time we had!!! We so enjoyed the pacing of the trip...cooking (or resting!) in the morning, a leisurely lunch, then travelling in the late afternoon was so relaxing. And the setup gave everyone options, to join in for the entire day, or just the cooking, just the touring, etc. And what a breathtaking place to be...I've been telling friends that the landscape alone was intoxicating...You were perfect hosts, as always, and lots of fun...and made the trip so very enjoyable and easy." Gerry K., NYC
A sunny morning in the rose garden facing the castle.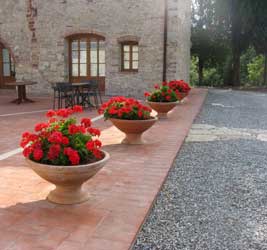 Pots of bold red flowers contrast with terracotta and stone; a view of the castle from the herb garden.
Detail of city hall in Pienza; the view from our villas.
Town clock in Montepulciano; cooking Tuscan bread and tomato soup and a sweet pepper saute.
Crostini, cheese, and wine still life; the winding road to the castle.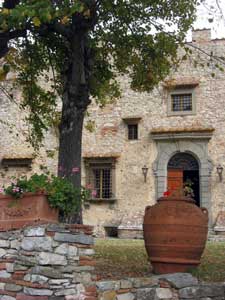 Another serene spot on the castle grounds; our lunch table awaits.
Mushrooms at an outdoor market; Micol and Dino with one of the tour participants.
The tour group poses for a photo (we're just missing Carol!).
Chianti Castle Vacation Itinerary
Recipes and Techniques you'll master during our week together
Appetizers
Italian antipasti
Frittata
Flat & filled focaccia
Homemade bread
First Courses
Tuscan soups
Risotto
Gnocchi
Egg pasta
Pasta sauces
Classic ragu
Main Courses
Roasting fish
Marinating meat
Braising meat
Brining meat
Veal saltimbocca
Baking in parchment paper
Vegetarian Cooking
Roasting vegetables
Cooking with seasonal vegetables
Cooking with fresh herbs
Desserts
Cheesecake
Tiramisu
Biscotti
Cheeses with heirloom honeys & preserves
Afternoon check-in at our castle in Chianti
Get-acquainted cheese & wine reception in the castle's glorious garden
Welcome dinner at the castle, featuring typical Tuscan dishes paired with the castle's own award-winning wines; we'll savor homemade lasagna, slow-cooked beef in Chianti Classico sauce, braised Tuscan beans, slow-cooked peas Florentine-style, fresh greens, Tuscan vegetables, and a grape-studded dessert served with a glass of Vin Santo, Tuscany's prized dessert wine
Day 2: Montalcino
Leisurely breakfast at the castle
Stroll in the herb garden, laze by the pool, or catch up on your reading
Picnic lunch at the castle featuring traditional Tuscan salumi (such as Salame Toscano, Finocchiona, Prosciutto) and cheeses, as well as rustic bread, fresh vegetables, farro salad, Tuscan beans with tuna, and biscotti
Afternoon departure for Montalcino, a gorgeous hill town with a stunning view of the valley below
Free time for shopping or sightseeing in Montalcino
Dinner at an award-winning wine estate just outside Montalcino, featuring homemade cheeses, fresh pasta in a garlic-laced tomato sauce, grilled meats, chickpeas, and panna cotta, all paired with Tuscan wines… including Brunello di Montalcino, one of Italy's greatest wines
Day 3: Pienza & Montepulciano
Morning cooking lesson; we'll prepare a menu of classic Italian fare, including pasta in spicy amatriciana sauce, focaccia, roasted vegetables, tiramisu, and more
Drive to the town of Pienza, renowned for its Pecorino, its glorious church, and its panoramic view of the Val D'Orcia
Free time for strolling in Pienza
Drive to Montepulciano, a hill town famous for its Vino Nobile
Free time for shopping and sightseeing in Montepulciano
Dinner at Montepulciano's most renowned restaurant; Luca and Massimo prepare a market-fresh menu daily and always surprise us with their creative approach to Tuscan cuisine; their desserts are as gorgeous as they are delicious, so save room for the sweet finale
Day 4: Greve In Chianti
Hands-on cooking lesson in the castle's large kitchen; we'll prepare homemade tagliatelle, a classic meat ragu', braised chicken with leeks and white wine, crispy roasted potatoes, slow-cooked fennel, ricotta cheesecake, and more
Lunch al fresco featuring dishes we prepared together
Mid-afternoon drive to a nineteenth-century olive oil mill near the castle, where the olives are still pressed using a stone wheel; we'll learn how Tuscany's famed olive oil is produced
Afternoon snack of fettunta, Tuscany's take on bruschetta and a perfect way to taste freshly pressed olive oil
Late afternoon visit of Greve in Chianti; free time for shopping or sitting at a cafe' in the piazza
Dinner at a family-run trattoria overlooking the town's lovely piazza, featuring a hearty vegetable and bean soup called Ribollita, grilled Bistecca alla Fiorentina (if you've never had this amazing steak, you'll surely be blown away by it—it's made from the prized Chianina cattle and has a succulence no other beef offers), a peppery wine-glazed beef stew from the Renaissance called Peposo, and more
Day 5: Gaiole In Chianti
Morning cooking lesson at the castle; we'll prepare a rustic feast that includes handmade gnocchi, veal saltimbocca, rolled & filled focaccia, seasonal vegetables, and molten chocolate cake
Lunch at the castle paired with local wines
Afternoon relaxing at the castle
Visit of the castle--we'll hear all about the Ricasoli family's fascinating history and see first-hand why this castle is one of Chianti's most interesting sites
Farmhouse-style dinner at the castle, featuring Tuscan farro soup, fresh tagliatelle in meat ragu, roast pork with wild fennel, grilled Tuscan sausages, braised cannellini beans, baby greens dressed with the castle's own fruity oive oil, almond biscotti, and Vin Santo
Chocolate tasting with Pietro--we'll learn how to pair chocolate with sweet wines (what a duo!)
Day 6: San Casciano In Val Di Pesa & Panzano In Chianti
Morning cooking class at the castle; we'll make risotto with porcini mushrooms, Mediterranean sea bass (branzino) with fresh herbs and olives, Tuscan panzanella salad, Mascarpone and berry mousse, and more
Mid-afternoon drive to San Casciano in Val di Pesa, where we'll enjoy an afternoon wine tasting at a Chianti Classico Winery
Drive to the hamlet of Panzano in Chianti, where we'll dine at Dario's newly opened restaurant—Dario is a legend in Italy and around the world, known not only for his bigger-than-life personality, his dedication to preserving Tuscany's traditional meats, and his outstanding home-cured Tuscan salumi... tonight we'll sample 6 of his classic meat dishes (and other Tuscan specialties like Pinzimonio, braised beans, and a sweet olive oil cake). Join us at Dario's always-busy butcher shop before heading to dinner at his restaurant for a glass of red wine, a chat, and a taste of his Finocchiona--or purchase his addictive sweet and spicy chili pepper jam, an unusually delicious accompanmiment to roasted pork (porchetta)
Day 7: Castellina In Chianti
Our final hands-on cooking class together will feature cheese-filled focaccia, Tuscan bread and tomato soup, herb-rubbed brined pork loin, hazelnut biscotti, and more
Afternoon drive through the idyllic Tuscan countryside
Drive to Castellina in Chianti for an afternoon gelato class; we'll see how an artisanal gelateria creates some of its finest offerings (such as Ricotta and fig gelato; hazelnut gelato; and strawberry sorbet), then indulge in a gelato tasting with master gelataio Simone
Visit of Duccio Fontani's herb farm in Castellina; Duccio grows dozens of herb varieties organically (including saffron); after a stroll through Duccio's herb fields and a moment with Duccio's donkeys, you can purchase organic honey, dried herbs, saffron, and more
Farewell dinner at Castellina's best restaurant, featuring creative spins on traditional Tuscan fare; we'll enjoy homemade ravioli in a saffron and Parmigiano sauce, braised wild boar with olives and red wine, and a luscious blackberry tartlet with vanilla creme anglaise
Day 8: Farewell
Farewell breakfast at the castle
Mid-morning checkout
Chianti Information
Closest Airport, Transfering to Gaiole in Chianti, and More...
Gaiole, the town in Chianti where we will be staying, is about 1 hour away from Florence or Siena, and an hour and a half away from Pisa. Rome is a direct flight from most major North American cities, while Florence is a connecting flight from Rome and other major airports. Pisa (Delta) and Florence (Air France) are now direct flights from New York's JFK airport.
You can reach our castle in Chianti in the following ways: driving on your own from Florence, Pisa, or Siena or even Rome; or by private car pick-up from your hotel in Florence, Siena, Pisa, or even Rome, which we can arrange for you if you like. (Please note that parking at the castle is included in tour price.)
Keep in mind that upon arrival in Italy, you will be jetlagged. You should plan on arriving in Italy no later than one day prior to the start date of the tour, so you can get over jet lag before we begin our journey together. You can request an additional night at our hotel in Rapallo prior to the start date of our tour (or after if needed) and pay the hotel directly for your additional night(s). Just let us know if you need additional hotel nights and we will contact the hotel in Spoleto directly on your behalf.
Plan on leaving Italy no earlier than the day after our tour ends. Most flights out of Europe are early in the morning and you would miss the last morning's activities if you book a flight out the same day our tour ends (you would need to be at the Bari airport by 8 am or earlier to catch a 10 am flight, and you would also be quite tired since we will not be returning to the hotel before 10:30 pm the evening before the tour ends).
Before booking your flights, please call 917-602-1519 or email us so we can review your travel itinerary.
To purchase travel insurance, visit here.
Chianti Cooking Vacation pricing & payment
Chianti Castle | September 6-13, 2008
Price per person, based on double occupancy: $3,950.
Single occupancy available for an additional $1025.
$750 reservation DEPOSIT (non-refundable). Please read our cancellation policy before making your payment.
The following is included in the price:
all land transportation during tour
7 nights accommodations on the grounds of a medieval castle in Chianti
7 buffet breakfasts
6 lunches with wine
7 dinners with wine
5 hands-on cooking lessons
gelato class & tasting
visit of Chianti Classico winery & wine tasting
visit of Tuscan olive oil mill & guided olive oil tasting
chocolate & sweet wine tasting
complimentary hands-on cooking class at RUSTICO COOKING in NYC
RUSTICO COOKING embroidered apron
full lentgh color video DVD of our cooking tour
recipe booklet featuring recipes taught at the castle
The following is not included in the price:
airfare
transport to and from airport
Note: price is subject to change without notice as a result of international currency fluctuations that may affect the cost of air/land/sea transportation, hotels, or other related services.
To reserve, please call 917-602-1519 or email micol@rusticocooking.com. We will hold your reservation without deposit for 10 days.
DEPOSIT Chianti Castle | September 6-13, 2008
A $750 non-refundable deposit is required to hold a reservation for tour at time of reservation. You can pay your deposit online using Paypal (see above) or send a check payable to:

RUSTICO CULINARY TOURS LLC
300 East 71st Street
Suite 4M
New York, NY 10021.
PAYMENT
Payment in full is required at least 90 days prior to departure.
REFUNDS
In the event that we must cancel a trip, you will be given a full refund of all deposits and payments. We do not give refunds of deposits or final payments for tours that commence as scheduled, including for unused portions of the tour. We do give credit for cancellations as noted below.
In the event you cancel your tour for any reason, we allow credit for payments (but not the non-refundable deposit) in the following way:
100% credit for future tours given with 90 days notice.
60% credit for future tours given with notice of 60 to 89 days.
30% credit for future tours given with notice of 30 to 59 days.
No credit given for cancellation less than 30 days prior to start date of the tour.
All cancellation credits are good for one year from the start date of the originally scheduled tour.
We strongly encourage trip insurance (contact your credit card company for additional information, or click here).
For information on our May 2008 cooking tour to Puglia & Basilicata, please click here
For information on our May 2008 cooking vacation to Umbria & Tuscany, please click here
For information on our May 2008 cooking tour to Liguria - the Italian Riviera, please click here

Ribollita Toscana
Tuscan Ribollita Soup
Step 1
Ribollita is one of Tuscany's most beloved soups. Made in humble country kitchens, it combines the region's saltless bread, prized beans, and hearty cavolo nero (literally translated, black cabbage--in fact it is Lacinato kale). Ribollita is a dish meant to be reheated; its very name means "boiled twice." Every cook makes his or her own version, but all versions include onions, carrots, celery, beans, cavolo nero, and bread... not to mention plenty of olive oil. I suggest you make a lot (the recipe below yields enough for 8 servings, but it can easily be doubled or even tripled; just watch the salt, as you can't double or triple it without risking a salty soup).
This recipe calls for canned beans; in Tuscany, purists would frown on using canned beans and would reach only for dried beans. To make ribollita with dried beans, the procedure will be different from the one described here: first soak the beans overnight in plenty of cool water, then drain, cook in plenty of fresh water, and puree a portion before adding to the soup; 1 and 1/4 cups of dried beans is roughly equivalent to the 2 cans of beans suggested here.
For this soup, you will need:
1/2 cup extra-virgin olive oil
4 medium yellow onions, minced
6 garlic cloves, minced
1/2 cup minced Italian parsley
2 large carrots, minced
2 celery stalks, minced
1/2 teaspoon salt
1/8 teaspoon freshly ground black pepper
1/2 cup strained Italian canned tomatoes
2 cans (15 ounces each) cannellini beans, drained and rinsed
2 quarts (8 cups) water
2 bunches (1 pound) lacinato kale, woody stems removed, leaves chopped
1/2 pound dense country bread, crumbled
Step 2
Place 1/4 cup of the olive oil in a deep, heavy-bottomed saucepan or pot (cast iron or enameled cast iron work well).
Add the onions, garlic, parsley, carrots, and celery to the pot and stir. Season with the salt and pepper.
Cook over medium heat for 20 minutes, stirring often to encourage even browning and to prevent scorching or sticking. If needed, add little water to the vegetables in the pot. When the vegetables are golden and soft, the base (or soffritto) is ready.
Step 3
Add the tomatoes to the pot and stir well to incorporate. Cook 5 minutes, or until the tomatoes lose their raw scent.
Add all but 1 cup of the drained and rinsed cannellini beans to the pot and stir again.
Meanwhile, in a blender, puree the reserved cup of cannellini beans with 1 cup of water until smooth; stir this bean puree into the pot. The bean puree will thicken and flavor the soup, and is essential to a true ribollita. (Note, however, that in Tuscany, ribollita is usually made with dried beans rather than canned... and purists would frown on using canned beans. See the introductory note above to substitute dried beans.)
Step 4
Add the water to the pot and stir well. Stir in the kale and bring the soup to a boil.
At this point it will seem like there is way too much kale in the pot, but as the soup simmers for hours, the kale will cook down to a soft, silky mass and will shrink a lot.
Stir the bread into the pot; I like using bread with the crusts on, but in Tuscany, the crusts are usually omitted.
Cover with a lid and reduce the heat to low. Simmer the soup for 2 to 3 hours, stirring once in a while and adding a bit of water if needed to maintain a soupy (but thick, almost porridge-like) consistency.
If the texture of the soup is too thin, remove the lid and cook the soup, uncovered, until nicely thickened. The final consistency of the soup has a lot to do with the type of bread you use; the denser the bread, the thicker the soup, since dense bread absorbs more liquid than light, airy bread. Tuscan bread is very dense and chewy, ideal for ribollita and other bread-based soups.
Adjust the salt and pepper, and serve the soup hot, drizzled with the remaining 1/4 cup of olive oil. Serves 8
See the chianti tour video here - just click and it will play!